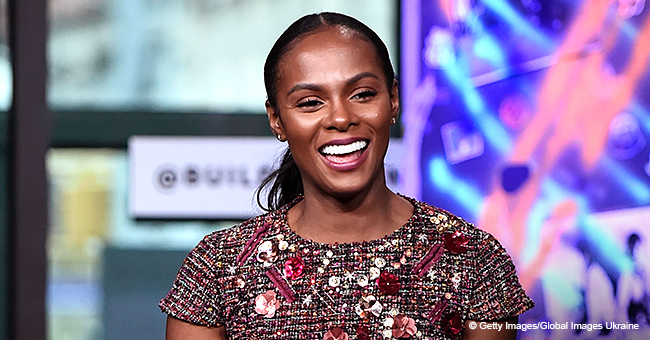 Tika Sumpter Shares Shirtless Pic of Bodybuilder Brother
The actress' brother is one of the hottest dudes out there, and Tika, of course, was swift to share her brother's "hit" picture on her Instagram page. The mouth drooling image can be seen below.
In the image, Tika could be seen wearing a huge smile as she stood close to her brother in an all black sweats and joggers. The actress also put on red sneakers and even a red lipstick to match. Standing near her is her younger brother who likes his sister also had a broad smile on his face. But the highlight of the lovely image is the gorgeous abs he showed off in the topless picture.
"I didn't understand it at first, but I'm so freakin' proud of my little brother and his dedication to compete at the @musclecontest! I was screaming for him. It's hard for me not to eat a cupcake and his commitment to this was incredible. Army strong. Go, little bro. Keep going. @kaptain_amerika"
Of course, her fans couldn't stop gushing about how handsome her brother is and how they couldn't get enough of seeing his images.
In an interview with "CELEBRITY Insider," Tika and her brother talked about some of the controversies that are aligned with immigration laws in the US. According to Sumpter, most immigrants cross into the country from southern and central America. Also, most of these immigrants are people that came in the United States with working or student visa and then decided not to leave after their due time had expired.
He further explained that former President, Bill Clinton had made job provisions for people in Mexico so that there was no need for them to cross through the borders into America illegally.
Well, this didn't work for long because, during President Reagan's term, he granted amnesty to all immigrants and told them they could stay if they are willing to pay taxes like a regular citizen.
While Mr. Sumpter seems like he knows his history well enough, when it comes to the acting world, his sister Tika is also one hell of an actress.
There have been rumors that there will be another spinoff of the series "Black-ish" and that Sumpter and actor Anders Holm will be taking the roles of a much younger Tracee Ellis Ross and co-star, Anthony Anderson. Although nothing has been confirmed yet, it is exciting to know that Tika might be coming to the big screen soon; and to act no one but the funny and fierce Rainbow.
Please fill in your e-mail so we can share with you our top stories!