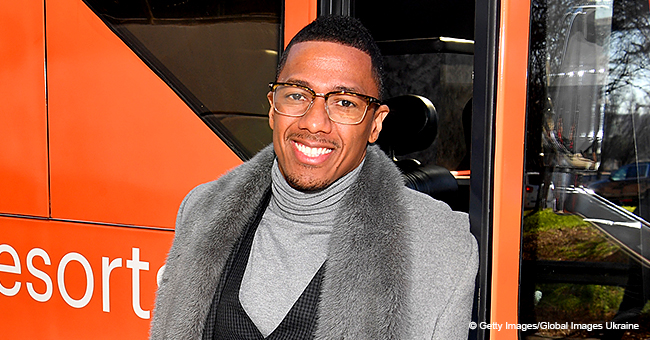 Nick Cannon's Son Golden Is a Cool Dude in Beach Pic
Nick Cannon's youngest son, Golden Saige, is melting hearts all over Instagram with his coolness, as he enjoys a beach day with his gorgeous mom.
The 2-year-old toddler is already following his dad's steps when it comes to fashion.
In a recent Instagram pic shared by Golden's mom—former pageant queen Brittany Bell— the pair is sitting on top of some rocks at the beach while staring out at the ocean in Malibu, California.
Golden looks adorable yet stylish rocking a leather jacket over a plaid shirt, khaki pants, vans shoes, big square sunglasses and a bandana tied on his curly hair. Bell, on the other hand, kept it simple with a body-hugging short dress.
"Just because (by the way Golden dropped mommy's sunglasses into the ocean rocks on accident. They are down there somewhere-- I can't be mad at that face.)" Bell captioned the post.
Friends of the model were quick to fill the comment section gushing about Golden's stylish look.
"Watch out Lenny Kravitz!!!" wrote one user.
Another added, "What a handsome/cute kid."
And a third one said, "Great shot of you two, B."
Bell shared another post with more pics from the same day, in which she and Golden posed in front of the vast ocean, and captioned it:
"Maliboo'd up with my Golden boy. The ocean reminds me how big our God is! #thesimplethings."
A few weeks ago, Golden made his first international trip to Dubai with both of his parents, and Nick Cannon shared a series of pics of the boy's first time at the beach.
Golden wasn't so fond of the water at the time, but it seems like he might be warming up to it now.
The "Golden Boy" has surprised his parents and fans with his quick wit and intelligence over the past year.
In February, Cannon melted hearts after sharing a video of his daughter Monroe teaching young Golden how to read. The girl showed her little brother some flash cards with simple words, as the boy proved he's a genius baby, correctly reading the tags at such an early stage.
Cannon, who also shares twins Monroe and Moroccan with ex-wife Mariah Carey, couldn't be prouder of his son.
So, when TV host Wendy Williams referred to Golden as an "oops baby," last year, the "America's Got Talent" host had the perfect clapback.
Nick shared a video of his smart baby reading more flash cards, and captioned it:
"Got another Genius on my hands!!! The Golden Child! No oops over here @wendyshow LOL My guy is brilliant! Reading at the age of 1!! #Genius."
Brittany Bell also made it clear that her son was not an "oops baby" by sharing a couple of maternity pics and captioning them "The honor of bringing life on earth is definitely not an oops."
It's clear that Cannon is an expert when it comes to the co-parenting situation with both of his baby mamas.
The secret, he says, is putting the children's well-being first.
"You put them first, and you step back and become selfless in making decisions, and it's pretty easy," he told US Weekly.
On top of that, it helps that the twins, Monroe and Moroccan, enjoy their role as older siblings to little Golden.
"They love hanging out with him, and it is almost like they are more concerned about him having fun than them having fun," Nick said. "They are always trying to make them laugh, and he is walking now, so they are trying to get him all the toys."
Please fill in your e-mail so we can share with you our top stories!