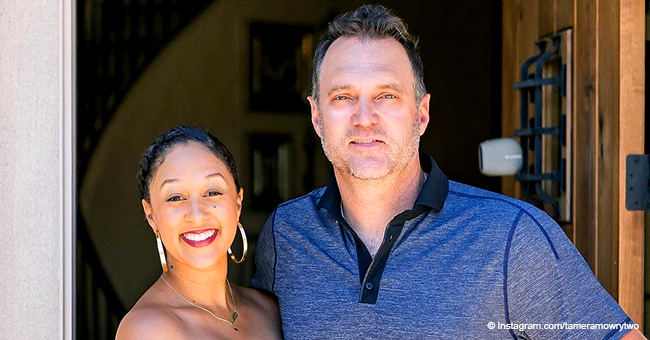 Tamera Mowry on Why Husband Adam Housley Left Fox News

Tamera Mowry recently weighed in on Fox News anchor Laura Ingraham's comments about slain rapper Nipsey Hussle, revealing that it is such opinions that made her husband quit the TV station.
A day after Hussle's memorial service in Los Angeles, Ingraham mocked the late rapper/entrepreneur on her show. She sarcastically referred to him as "this dear artist" and claimed he recently released a song that uses the F-word on Donald Trump.
As it turned out, Ingraham was wrong on many levels. Not only did she show a clip of the song where Hussle does not appear, but the track belongs to another rapper YG, who featured Hussle.
While Housley never addressed this directly, Mowry's latest comments seem to confirm the speculations.
"That's a very creative refrain, very catchy," Ingraham added in mockery of the song's "F--- Donald Trump" line. "The chorus, it goes on and on. Is that related to the lowest unemployment ever basically for African Americans?"
Ingraham has since come under fire for her careless and insensitive remarks about Hussle, a man that was highly respected for the contributions he made to his community, and Mowry and her "The Real" co-hosts addressed the topic on Tuesday's episode.
"This is the reason why my husband left the news," said Mowry, whose husband Adam Housley left his job as a reporter for Fox News last year.
She continued:
"The issue with a lot of these opinionated shows is I feel like they're more focused on riling people up with their state of opinion instead of reporting the news, you know what I mean? And whether you like Nipsey's music or message or not, you can't dispute the fact of what he did with his community."
"He did something great. They could have reported that!" Mowry noted. "And there is nothing funny about a man being murdered. Nothing! His children are now fatherless. He left behind a family that is mourning. That's not funny to me."
According to MadameNoire, Housley left Fox News amid rumors that he disapproved of their coverage style and non-critical focus on the moves and behavior of Donald Trump. While Housley never addressed this directly, Mowry's latest comments seem to confirm the speculations.
Nipsey Hussle was murdered on March 31 outside his South L.A. clothing store "The Marathon." The Eritrean-American rapper died of gunshot wounds to the head and torso and was buried on April 11.
Hussle, 33, is survived by his family including a longtime girlfriend, actress Lauren London, their two-year-old son Kross, and his seven-year-old daughter from a previous relationship, Emani.
Please fill in your e-mail so we can share with you our top stories!