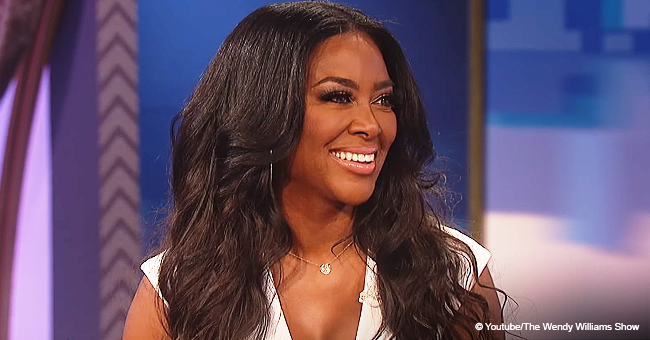 Kenya Moore's Daughter Is 'Talking Just in My Own Language' (Video)
Kenya Moore shared an adorable video of her daughter Brooklyn Daly "talking" for the first time.
Reality star Kenya Moore delighted fans by posting a cute video of her 5-month-old daughter on Instagram.
In the video, the adorable infant happily shows off her impressive verbal skills in a sweet dialogue with mom Kenya.
"I'm really talking just in my own language ??? #babydaly#babybrooklyn #miraclebaby"
BROOKLYN DALY TALKS UP A STORM
The clip shows a perky Brooklyn responding enthusiastically to her mother's voice who sweetly greets her: "Hi!"
The smiling baby echoes Kenya's salutation with a credible "Hi!" She becomes even more excited when her mom coos: "Hi baby!"
BROOKLYN'S CUTE MISTAKE
Kenya then goes on o ask Brooklyn if she can put her pacifier in her mouth on her own, and the baby promptly stuffs her tiny fist into her mouth. Kenya exclaims:
"Not your hand, silly girl! Your pacifier, not your hand!"
KENYA'S BIG ANNOUNCEMENT ON RHOA
Fans will remember that it was a year ago on the reunion show for "Real Housewives of Atlanta" that Kenya announced that she was pregnant with her first child.
The happy couple welcomed Brooklyn in November 2018, after a complicated high-risk pregnancy
KENYA'S ADORABLE LITTLE FAMILY
Kenya Moore married restauranteur Marc Daly in a romantic beach ceremony in St. Lucia on June 10, 2017.
The happy couple welcomed Brooklyn in November 2018, after a complicated high-risk pregnancy that saw the 47-year-old Kenya fighting for her life.
KENYA MOORE'S COMPLICATED PREGNANCY
Kenya Moore shared the details of her troubled pregnancy with fans, including the worrisome fact that she was suffering from preeclampsia.
Preeclampsia can cause swelling, protein in the urine, and high blood pressure - which placed mother and baby at significant risk.
Kenya was diagnosed with preeclamsia which led doctors to deliver her baby early through an emergency caesarian section.
"There were all these complications.They ended up cutting me vertically too, to just get the baby out and make sure I survived the surgery. They were so scared they were going to lose me."
Both Kenya and Brookln survived the harrowing experience, and mom and daughter are now in glowing health.
The proud mom touchingly calls her only child her "miracle baby," and the adorable infant already boasts over 70,000 followers on Instagram.
Please fill in your e-mail so we can share with you our top stories!