Singer Duranice Pace Makes Steve Harvey Cry with Impromptu Song
"Family Feud" host Steve Harvey was brought to tears during an episode of "Steve" after listening to the emotional story of singer Duranice Pace.
Pace was a member of the Atlanta based gospel group "The Anointed Pace Sisters." She was recently a guest on the talk show "Steve" where she shared the hardships she had faced with Steve Harvey and the audience present.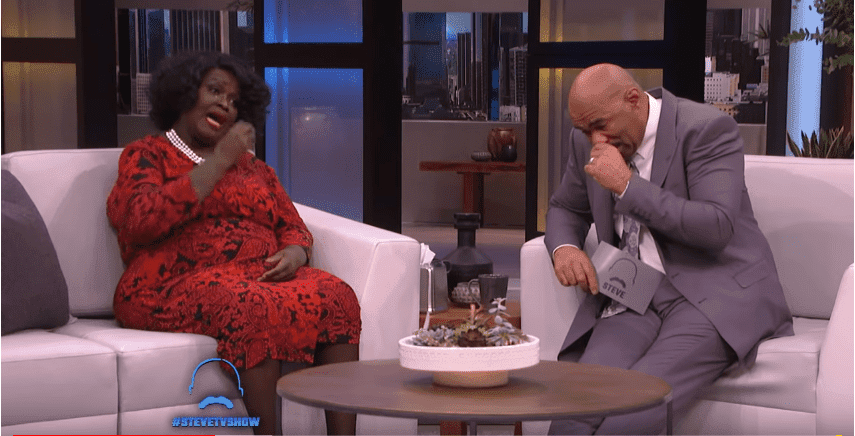 The singer stated that she had part of her vocal cords removed after she was fed rat poisoning. 
"They said I'd never talk again, But the man upstairs said, 'You gon' sing again,'" she said. 
Duranice also revealed her battles with thyroid cancer and how she was told she had only three years to live,
"March 28 would be 11 years ago," she said as the whole audience cheered happily. "God kept me alive to see you sir, and I'm just glad to be here. I can go to heaven now," said Page as water filled Steve's eyes. 
Steve Harvey who listened with swift attention became emotional and shared the sad story of how his mother died and how his father had told him to tell the doctor to get her off life support.
"That was the hardest thing I ever did you know," said the host. "I suffered with that for a long time, until someone told me my mum was cool with it." 
Pace then surprised Steve by singing a song that explains what he meant to her with her melodious vocals and inspirational lyrics. After her singing, Harvey got emotional as he told the story of how she (Duranice) ended up on the show. 
"You come in here today, this is just a put me on segment, I've never heard about your story and said well, we'll give her a chance, but I ain't know you was going to come and do all this. Now you got me all jacked up," Steve said hilariously. 
Pace then calmed him down by telling him he was special. Steve also thanked her by saying, "you think I helping you, but you really are helping me."  Duranice Pace performed and released five albums with the other eight members of her group  "The Anointed Pace Sisters" between 1992 and 2009.
This is not the first time the host will be getting emotional on his show. During an episode of "Family Feud," Harvey was teary after he heard the story of a man who was terminally ill and desperately needed the game's money for his family due to his inability to get insurance money. 
Harvey who first noticed the man because the man wouldn't stop crying explained that he was moved to tears after hearing the mans story and grateful that he indeed won the game.