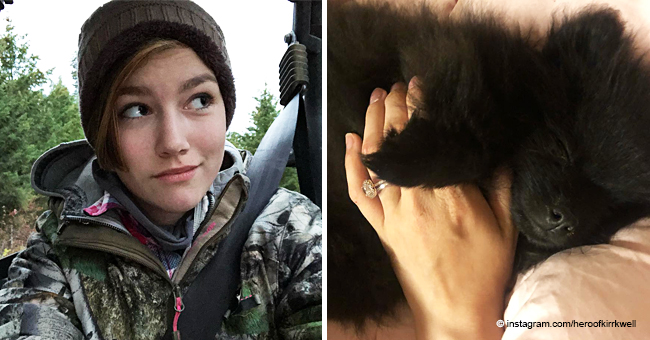 Rainy Brown's Fans Wonder If the 'Alaskan Bush People' Star Got Married after Seeing Her Shiny Ring
Rainy Brown sparked curiosity among her fans over the ring on her finger.
The "Alaskan Bush People" star recently shared a photo on Instagram that showed her hand holding a puppy.
She captioned the snap: "Four weeks with This little dude has changed my life... I feel like I've known you forever and I have never been happier, Jakson, I promise to pamper you forever. Love mama."
The post quickly drew comments wondering whether Rainy, who is only 16 years old, is becoming a bride soon.
"Omg RAIN, did I miss something??" one fan asked. Another questioned, "Did you get married??"
"Is that an engagement ring on your finger?" yet another fan wondered.
SHE'S NOT WALKING DOWN THE AISLE ANYTIME SOON
But Rainy, who is the youngest of the Brown siblings, made it clear from the beginning that she is not tying the knot anytime soon, by including the hashtag #notaweddingring in her post.
The reality star has gained her own legion of fans, thanks to her family's hit reality series. Launched on the Discovery Channel on May 6, 2014, "Alaskan Bush People" follows the Brown family as they attempt to survive in the wilderness.
The family is led by Billy and Ami Brown, who have five sons and two daughters, including Rainy.
CRYPTIC HINTS ON SOCIAL MEDIA
In an earlier post on Instagram, Rainy posted a throwback photo of herself as she joined the internet's 10-year challenge. Fans could not help but be awed by how she has changed.
The Brown family has been making headlines lately, partly for the miraculous recovery of the matriarch, Ami, and Rainy's activities on social media.
Rainy has been sharing posts with cryptic hints. "Sometimes all it takes is one special person, and suddenly, the world doesn't seem so bad anymore," she wrote once.
This post left fans wondering whether she could be in love, which they hope for her after she revealed that she battled with depression when her mom was diagnosed with cancer.
Please fill in your e-mail so we can share with you our top stories!