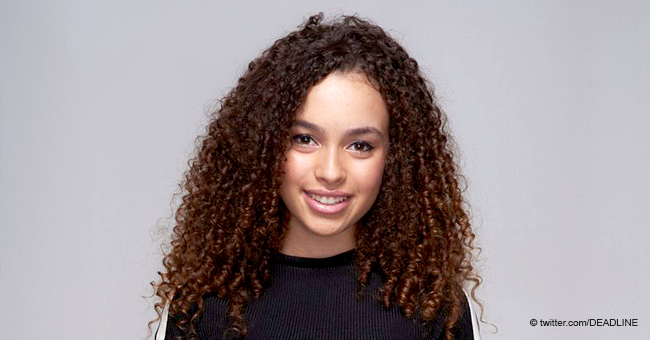 Mya-Lecia Naylor's Dad Reportedly Revealed What Happened Prior to His Daughter's Death at Age 16
The death of BBC's "Almost Never" television star, Mya-Lecia Naylor is under investigation after she reportedly collapsed prior to her passing.
The 16-year old children's star featured in shows like "Millie Inbetween" and "Almost Never" while she also snagged the role as Miro in the film "Cloud Atlas" with Tom Hanks and Halle Berry.
Martin Naylor, Mya's heartbroken father allegedly spoke to his neighbor, 48-year-old Nana Boateng shortly after his daughter's death on April 7.
"He told me that Mya had collapsed. He was about to break down when he added, 'We've lost our baby,'" Nana reportedly told MailOnline. "I feel so sorry for them. She was such a young, happy and beautiful girl with everything to live for. My wife is so upset she can't stop talking about it."
After Mya's death, the director of BBC Children, Alice Webb spoke out about the young woman's tragic death. "She has shone so brightly on our screens … and it's unthinkable that she won't be part of our journey going forward," she said.
Alice further added that the "hugely popular" Mya became a role model for her fans while she was also a "very talented" singer, actress, and dancer.
Croydon Coroner's Court confirmed that an investigation into Mya's cause of death is underway while her agent, A&J Management also confirmed that she died after collapsing and expressed their condolences on social media:
Only two days before her death, Mya spoke with Tresa Magazine about her plans for the future and her busy schedule. "It's hard at the moment since I've got my GCSEs in about two months," she told the magazine. "As soon as that's over I really want to get back into the habit of posting on YouTube weekly and really engaging in that."
The youngster also teased about "amazing projects" in the pipeline as she added:
"I have been filming a few things here and there but everything's a bit hush-hush at the moment so I can't really speak about it yet but be on the lookout because there's going to be some amazing projects out real soon!"
A writer from the magazine that worked with Mya on occasion also expressed her shock and words of support to Mya's family:
One of Mya's co-star's on "Millie Inbetween," Rhianna Merralls, also posted a message of support to the late star's family while added that Mya will always have "a special place" in her heart.
Similarly, it is almost a year ago that another young and talented actor passed away due to unknown causes. Jackson Odell was 20 years old when his body got found in his sober living home in Tarzana, California on June 8, 2018.
Please fill in your e-mail so we can share with you our top stories!