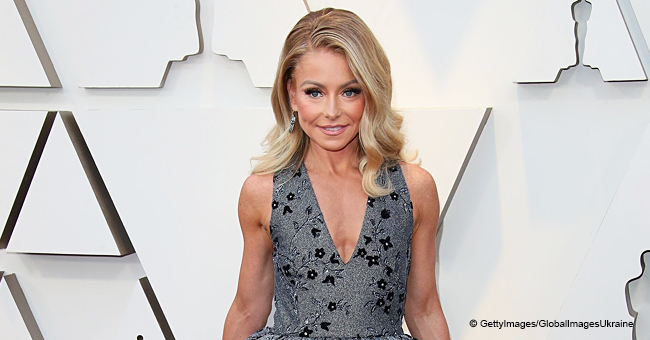 Kelly Ripa Shares a Rare Childhood Photo of Her Kids

Kelly Ripa throws it back as she shares an adorable childhood photo of her now grown-up kids on Instagram.
In the spirit of Easter celebrations, the Hollywood celeb took to Instagram to post a flashback image of her kids at a 2002 Easter fun fair as her caption indicated.
Ripa wrote, as she made the throwback photo a thread while informing fans to visit her show's site to post theirs as well.
"Couldn't wait till Thursday to throw back to Easter Bunny 2002. I showed you mine. You show me yours. Go to KellyandRyan.com to send Bunastuc pics,"
In the photo, Kelly's firstborn son, Michael Joseph who looks about the age of 5 presents a wide smile while Lola, at the time a toddler, looks unamused as she is being carried by a life-size Easter bunny; The photo in all is a hilarious one.
Fans in the comment session quickly shared their lovely comments as they adored Ripa's kids. Lola, who is known to drop comments on her mom's posts was readily available as she wrote, while explaining the reason behind her look in the photo and also pointing out the fact that even as a grown up, she still has phobia for mascots.
"My biggest fear is still when ppl dress up in these costumes like why it's literally horrifying."
The 48-year-old talk show host is a doting mother of three beautiful children, and she never fails to show how proud she is of her kids. Recently, Ripa reportedly caught the baby fever as she considers birthing a fourth child.
After visiting the home of her co-host, Andy Cohen, on the birth of his newborn son, Kelly broached the topic of a new child with her husband, Mark Consuelos. During Monday's episode of "Live! With Kelly and Ryan", Ripa spoke on her visit to Cohen's home as they also shared photos from the visit in the show.
Kelly explained, making it known that her husband's reaction made their discussion inconclusive:
"I was putting it out there for [Mark] last night, He was like, it's alright. Let's be grateful for what we have. And then he put on "Game of Thrones" and fell asleep, which was the anti-aphrodisiac."
Andy Cohen, in turn, made it known that Kelly wasn't the only one infected with the baby fever. He said:
"He is causing women all over my life to start re-ovulating, Kelly came over, her body was responding in ways -- I was like, "Whoa!" … I do have to calm the ladies down a little bit."
Ripa responded:
"He really does make me want to have another baby,"
Ripa said, as she agreed to Cohen's hilarious speculations:
"He's confused me into thinking [I want another]."
Please fill in your e-mail so we can share with you our top stories!