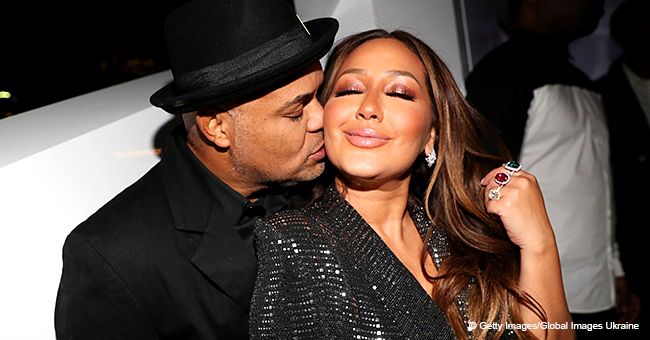 Report Claims Adrienne Bailon Wants to Get Pregnant This Summer
Adrienne Bailon-Houghton has reportedly revealed that she and her husband, Israel Houghton, will be trying to conceive this summer and plans to take a different route than the one she took in the past.
Adrienne, 35, has always been vocal about her desire to start a family and the struggles of getting pregnant.
In a recent exclusive with Hollywood Life, the former "3LW" member opened up about previous misconceptions and how all her plans so far have failed.
"I believe in that and I have faith in all of that. But it can be really discouraging and it can be really frustrating."
"I thought of pregnancy very differently than it was in real life," Adrienne said. "You're told your whole life, 'You have sex one time, and you're going to get pregnant!' As a teenager, that's something you have in your mind."
She further explained that at first, she tried to time her conception so that their baby would arrive within the months she'd be on break from co-hosting duties on "The Real."
"If I'm honest, we tried in that small window of August – it didn't happen, so I was like, 'Oh, I'll go right back on the pill,'" she confessed.
Now, however, Adrienne is throwing all her schemes out the window and plans to get busy with her gospel singer hubby this summer.
"We have decided that this summer, we will begin again and not stop until [getting pregnant] – I'm not going to be on any planned schedule. If it happens, it happens. I've got a great job that supports me and supports my journey as a mom. I think when you go through something like that you recognize that having a baby and getting pregnant truly is a miracle and I'm ready to experience that miracle! However, whenever."
During a 2018 appearance on "The Rachael Ray Show," Adrienne added that she and Israel, 47, have "been enjoying the journey" of trying to conceive, so this summer should be an enjoyable one for the couple.
The former "Cheetah Girls" star previously spoke about fielding pregnancy speculations from the public and how frustrating it has been for her.
"I know you guys are like, 'Is she pregnant?' 'Her face is fuller'— FYI I've always had a really chubby face, so that's not what it is," she joked during a September 2018 episode of "The Real."
She added:
"I've had to come to peace with it that it'll happen when it's God's time and I believe in that and I have faith in all of that. But it can be really discouraging and it can be really frustrating."
Israel even had to come to his wife's defense earlier this year when an insensitive troll mocked her and claimed she was only speaking about her pregnancy delays for attention.
The couple tied the knot in a Paris Wedding in November of 2016, and although they have no child of their own yet, Adrienne is a stepmom to Israel's four kids from a previous marriage.
Please fill in your e-mail so we can share with you our top stories!