Kourtney Kardashian Falling off a Bike Proves Posting While Riding Is a Recipe for Disaster
Kourtney Kardashian got her birthday celebrations off to an early start on Venice Beach but took a hilarious tumble that taught her a valuable lesson in bike riding while texting.
The mother of three met up with her best friend Larsa Pippen and sister, Kendall Jenner for lunch at a popular restaurant, after which they decided to take in the sights.
They strolled around and indulged in some shopping before they took a leisurely bike ride along the beach, which would ultimately lead to Kourtney's tumble.
Because Kourtney was on her phone, busy documenting the ride on her Instagram Stories, it captured the exact time she became one with the sand.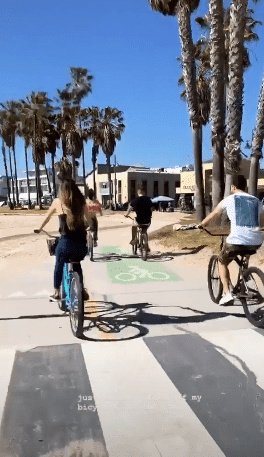 The first clip starts with them already on the go as the camera panned over the beach while her Vans Old Skool sneakers also made a brief appearance. In an effort to pan too much to the left she turned the steering of the bike and it jack-knifed, which left Kourtney laughing and on her back just off the pathway on the sand.
A man was kind enough to offer Kourtney a helping hand to get up and she soon dusted herself off and got right back on the bike, without her phone.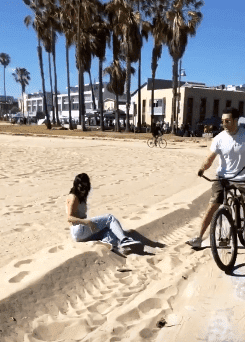 As Kourtney enters a milestone era she welcomes it with open arms, according to a source who reportedly told PEOPLE that she "seems very excited about her life just in general."
After her new website, Poosh launched last month, she had reportedly found a new sense of pride in her work.
"She feels great about many things that she has accomplished so far. She is very excited about Poosh, " the source added. "She has been very focused on it. She has a small team that helps out, but she's putting in many hours making sure her site is fun, educational and features brands that she loves."
According to the source, Kourtney feels stronger after everything she went through on a personal level and is excited for what's to come.
Kourtney and Scott Disick have finally left years of drama "behind them" with the focus on raising their children, nine-year-old Mason, six-year-old Penelope, and four-year-old Reign. "It hasn't been easy, but now she's in a great place with Scott," the source added.
However, her birthday celebrations started when she woke up on Thursday morning, as a flood of beautiful birthday wishes awaited her from her mom Kris Jenner, Caitlyn Jenner, and her sisters who got all nostalgic.