Trump Jokes about Being in the Oval Office for the 'Next 10 to 14 Years' Amid Mueller Report
Hours after a redacted version of the Mueller report got released, Donald Trump joked at remaining the president for longer than approved by the US Constitution.
Donald arrived at the Wounded Warrior Project soldier drive, held at the White House on Thursday morning in a cheerful mood. The results from the Meuller report revealed that they found no concrete evidence that Donald Trump colluded with Russia during his campaign in 2016.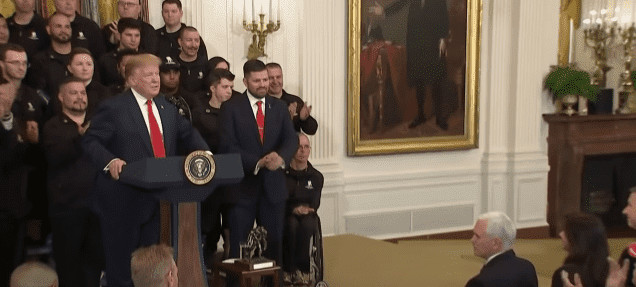 Participants of the project presented Donald Trump with a trophy after he gave a 15-minute speech on the "true heroes" of the country and the vital role the project plays in the lives of wounded soldiers.
Upon accepting the trophy, Donald Trump joked, "This will find a permanent place, for at least six years, in the Oval Office, is that ok?" After a brief round of applause, he continued, "I was going to say for at least 10 to 14 years, but we would cause bedlam, so we'll say six!"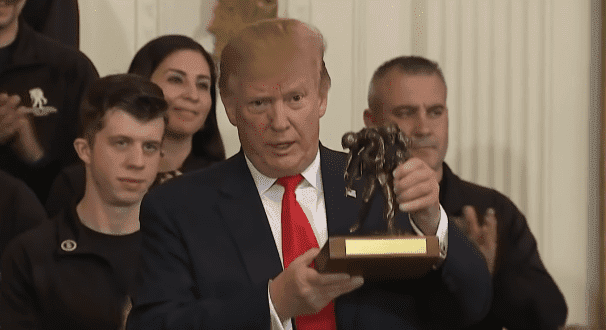 According to the US Consitution, the 22nd Amendment approved in 1951; a president can serve a maximum of two terms, which is eight years.
Donald later posted a sarcastic tweet, which he pinned, that played on the Game of Thrones theme which read, "No collusion, no obstruction. For the haters and the radical left Democrats - Game Over."
While the president seemed delighted at the outcome of the Meuller report, it specifically stated that it didn't clear him either.
"If we had confidence after a thorough investigation of the facts that the President clearly did not commit obstruction of justice, we would state so," the report read. "Based on the facts and applicable legal standards, however, we are unable to reach that judgment. Accordingly, while this report does not conclude that the President committed a crime, it also does not exonerate him."
The report also specified how the special council attempted to speak with the president for over a year until they eventually got Trump to agree on giving written responses.
In November 2018, Donald supplied the council with answers to five specific topics. One was contacts with Russian and all things related during the transition, and another was the Trump Organization Moscow project, followed by June 9, 2016, meeting at Trump Tower, Russian hacking, and Russians efforts with WikiLeaks and social media.
According to the report, Trump did not give satisfactory answers and replied more than 30 times that he either "did not recall" or had "no recollection" of the specific information requested. tre 
However, Donald caused quite the upset a week ago when he openly attacked Minnesota Rep. Ilhan Omar on Twitter with a controversial video that had people in an uproar.