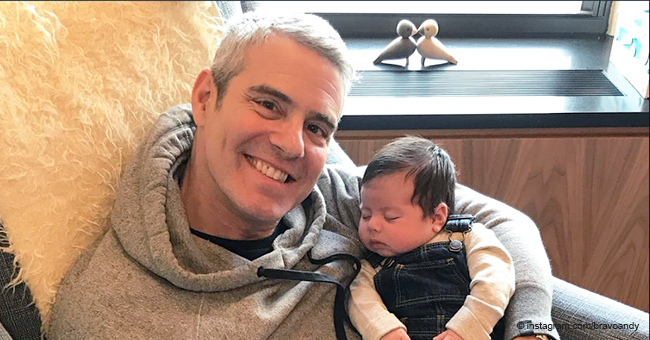 Andy Cohen Shares Sweet Photo of First Easter as a Proud Dad

The Bravo TV late night show host is treasuring every minute since his dream of becoming a father against all odds became true. Little Benjamin Allen has taken over his father's Instagram profile.
50-year-old TV personality Andy Cohen was among the celebrities who shared their holiday celebrations during 2019's Easter, even though he is Jewish, and he couldn't ask for a better company to mark the occasion.
On April 21, Cohen took to his Instagram account to post a picture showing him with his newborn baby lying on his chest and his dog resting on his lap, with the proud father looking like he is in heaven with happiness, as his smile indicates.
EASTER MORNING WITH BABY BEN
"Happy Easter, from us," Cohen simply captioned the lovely snapshot, adding a bunny, a puppy, and a baby emoji. So far, the post has received more than 200.000 likes and many positive comments from followers.
"You are truly blessed Andy!!!! Happy Easter and Passover to you and your family. Your son is so precious! Enjoy every minute you possibly can with him. They grow so fast!!! God Bless," a user commented in reply to Cohen's post.
"Andy, this dad thing was truly your calling. Such a natural! Congrats and Happy Easter to your sweet family!" someone else wrote.
"Andy, you appear 10 years younger, filled with joy and there is literally light beaming from your face," added another follower.
While in the picture in question baby Benjamin is looking away from the camera, Cohen's fans found his position to be adorable and they were sure to make mention of it.
"Ugh I love when they lay like that their little diapered butt sticking up!" a user expressed. "Best baby position... doesn't get any better than that," someone else commented.
BEN'S GREAT LOOKS
The previous day, Cohen gave the fans a great glimpse of Benjamin in all his cute glory, sharing a close portrait of the baby laughing and amusingly looking at his father with his big, bright, dark eyes that have already stolen so many hearts.
"I wish I looked like this right when I woke up!" Cohen jokingly captioned the picture.
LEAVING HIS DOUBTS BEHIND
While the "Watch What Happens Live" host has gone long ways to battle the stigma against gay parents and single fathers in general, sometimes he still has to deal with his feelings of not being accepted or doubting himself.
He recently admitted to Jimmy Fallon that he wasn't sure about taking Benjamin out with a stroller because he didn't feel natural doing it and was self-conscious about how it might look.
"I was kind of freaked out about the stroller. What do I look like pushing a stroller? I just seemed odd to me, and I was scared to take it out," Cohen told his colleague early in April.
"I don't remember ever seeing dudes pushing strollers," he said to have thought initially, but a friend of his helped him gain the confidence he needed.
"And, so, my friend Liza sent me a bunch of pictures of, like, Bradley Cooper pushing a stroller and Matt Damon. And I was like, 'Oh, wait. Dudes push strollers.' And now, by the way, I love the stroller so much," he told Fallon.
Please fill in your e-mail so we can share with you our top stories!