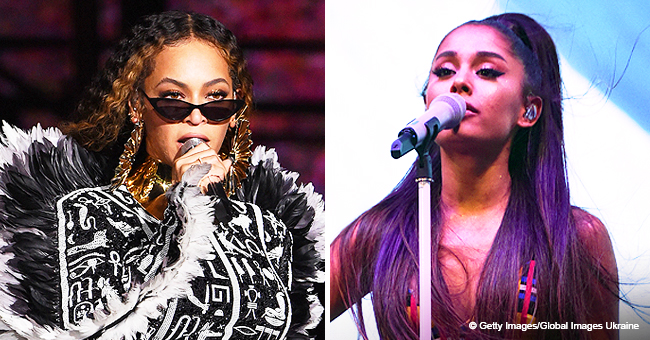 Alleged Beyoncé Fan Threw Lemon at Ariana Grande after Rumored $8M Coachella Pay

The beehives don't joke! Grande is an exceptional artist, and this is evident in her majestic Coachella performances so far. Although the singer may have a strong fan-base, it's definitely not as fancy as the beehives which are known to follow Queen Bee diligently over the years.
The Beehives started to defend the honor of their Queen when "Variety" reported that Ariana Grande was paid $8 million to headline Coachella (everyone's favorite show of the year) this year, a staggering fee by any standard. What made this news a big deal was when the pay was compared to Beyoncé's who was reportedly paid half that amount to headline in 2018.
Grande is not only the youngest headliner in the music festival's 20-year history, but she also showed her thrilled fans on Sunday night that she is a sensational artist by engaging a live orchestra, reuniting (most of) NSYNC, singing with Nicki Minaj, and paying tribute to her late ex-boyfriend, Mac Miller.
The adorable singer performed hits from all of her five alba and the show was nothing but a breath of fresh air.
But we all know that Beyonce's 2018 performance was literally the "bomb" and set the bar pretty high for fellow performers to come which is totally the Queen Bey's way.
Most of Knowles' fans were also furious at knowing that their Queen was paid half Grande's pay for her record-breaking show and most took to social media to vent their anger. One, however, was suspected of bringing the bad energy to the Coachella stage as she was caught on camera throwing a lemonade at Grande.
In the clip shared by a Twitter user (@KayleighPerezz) online, the lemonade flew right at Ariana as she was stepping from a stage to another to continue her thrilling performance. Although the professional singer blew it off and continued her show as nothing did happen, it definitely got to her.
Anyway, according to "The Blast," the rumor isn't right, and a source informed the news outlet that Beyonce was paid $4 million for each performance which totaled $8 million for her two appearances just like Ariana.
Still, Beehives don't joke!
Please fill in your e-mail so we can share with you our top stories!