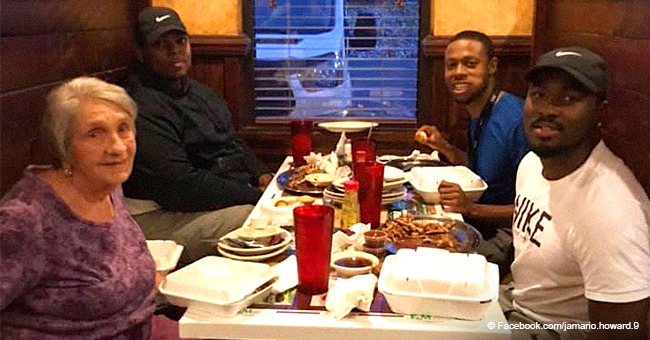 Alabama Men Invite Elderly Woman Sitting Alone to Dine with Them (Photo)

Three Alabama men have gone viral after they invited a lonely elderly widow to sit and eat at their table. One of them confessed that the experience taught him a valuable lesson and he has a message for everyone out there.
Jamario Howard and his friends, JaMychol Baker, and Tae Knight went to a restaurant about a week ago and while they were waiting for their food orders to come through, he noticed an elderly white woman sitting all alone.
"My exact thoughts was 'dang I'd hate to have to eat alone,'" Howard wrote in a Facebook post about the incident that has since gone viral.
Howard further revealed that he went over to the woman to speak with her and during their discussion, he realized why she was sitting alone:
"So after thinking about it a minute I walked over to her and asked if I could sit with her. She said yes and we talked for a minute and after a while of talking she told me she lost her husband and that tomorrow would have been their 60th anniversary."
Howard offered the widow his condolences, but he did not stop there. He invited her to eat at their table and said that the woman was "excited" to do so.
Howard and his friends bring to mind other stories of kindness, like the one of the Walmart cashier
Howard confessed that their experience with the woman changed his outlook on life and how he looks at other people, adding that everyone has a story and urging folks not to judge anyone.
Howard and his friends posed for a picture with their new friend, and according to him, the purpose of sharing their experience was to promote kindness:
"The point in this is always be kind and be nice to people. You never know what they are going through. …And people I can't stress this enough. GO SEE YOUR MOM AND YOUR GRANDPARENTS. They miss you!!"
Howard's Facebook post went up on April 19 and has since attracted 42,000 shares and over 150,000 reactions. The post also has more than 13,000 comments, most of which is praise for the three men.
"This was so very sweet of You," said one Facebook user. "This is what Jesus asks of us; to Share His word and to care. We are our brothers keepers!!"
"The world needs more people like you," chimed in another. "Thank you for the great modeling of what a kind human does and thinks."
A third person echoed:
"You are a wonderful person. Thank you for your kindness. You and your friends are awesome. May you all be blessed."
Howard and his friends bring to mind other stories of kindness, like the one of the Walmart cashier who helped a woman with cerebral palsy with her manicure after a nail salon turned her away.
Here's to more stories like these that help to restore our faith in humanity.
Please fill in your e-mail so we can share with you our top stories!