Jamie Foxx with His 'Road Dogs' Daughter Annalise and Family (Photo)
Jamie Foxx shows he's a hands-on dad in a new family photo of him spending time with his children. Jamie Foxx is well known for being an actor, musician, and comedian, but beyond entertaining others, he is a hands-on dad to his two children and gives them his attention when he is not working.
Ever the family man, the father-of-two shared a photo of him spending time with his family on his Instagram account. They posed in the front of a private airplane; Foxx leaned against the step, while the children stood on it behind him.
Daughter, Anelise was closer to the actor, and the quartet dressed casually, looking like one big happy family. The comedian wrote alongside the photo
"The four reasons I get up and go get it…my road dogs for life. P.J, Ananiya, and Anelise…"
Foxx's older daughter, Corrine, was missing out on the family time, but out of sight and not out of mind. The musician added that she has his heart, and will always be his number one.
The "Unpredictable" actor's followers loved the post. One wrote that "Family is everything," while another viewed them as "Inspiring." Foxx's children inspire him, and he is proud of his daughters. The father-of-two takes special pride in the achievements of his 10-year-old; especially in her skill as a footballer.
Last November, the "Django Unchained" actor said during an appearance on "Live With Kelly and Ryan," that his little girl is the only female player in her flag football league. He revealed that Anelise is the star player, having scored three touchdowns.
This is not surprising as Foxx's father used to be a coach, and before finding fame and fortune in Hollywood, the actor used to play football. The little footballer was born in 2009, but her mother, Kristine Grannis, was not known until 2017.
The actor protected her identity, but despite his efforts, the cat got out of the bag when the 40-year-old was spotted out and about with the little girl in Los Angeles. Despite not revealing his daughter's mother's identity, he never denied that the little girl was his; he takes her to most of his events.
In 2015, the little girl stole the show at the Grammy Awards; she took pictures with celebrities like Jay-Z, Taylor Swift, Madonna, and Paul McCartney, and looked adorable in all of the snaps.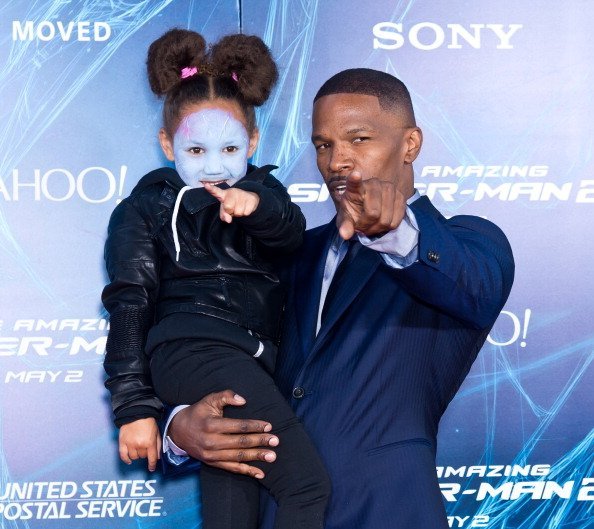 That same year, little Anelise escorted her father to the premiere of "The Amazing Spiderman 2," and the father-daughter duo looked lovely together. Foxx is an example that a man can always make time to be with his children even though they have different mothers.