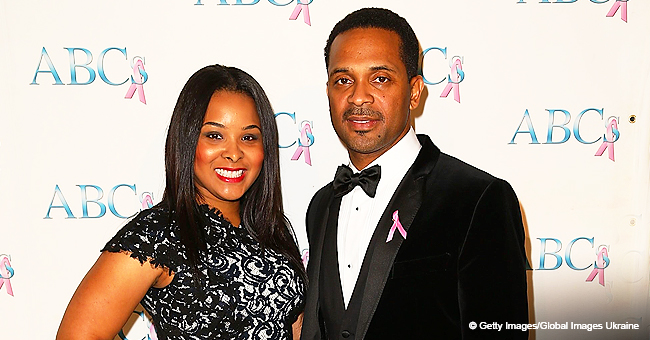 'It's My Time,' Mike Epps' Ex-Wife on Why She Dropped Her Last Name Following Their Separation

Comedian Mike Epps's ex-wife explained why she is changing her famous last name and taking charge of her own legacy.
After 15 years of marriage to comedian Mike Epps, Mechelle Epps is celebrating her new-found freedom by ditching her ex-husband's famous name and recovering her identity.
Say goodbye to Mrs.Epps, and meet the dazzling Ms. Mechelle McCain.
"I put blood, sweat, and tears in a 15-year relationship that didn't work out. As the mother of two girls, I want to demonstrate to them that you can pick up your life, chase your dreams and start anew. I want to be the best example of #girlpower to them."
MARRIAGE TO MIKE EPPS
When comedian Mike Epps met the gorgeous Mechelle she was a successful actress and producer with such credits to her name as "35 and Ticking." "The Bold and the Beautiful," and "The Game."
After their marriage in 2005, Mechelle put her acting career on hold to focus on being a devoted wife, and mother to the couple's two daughters Mariah, and Maddie, now 13 and 12 respectively.
LOSING HERSELF IN HER FAMILY
Like so many women, Mechelle subsumed her own needs and creativity into her family, but when her marriage fell apart, she took back her power.
"It's my time. Right now, women are having a moment. We're no longer comfortable playing second fiddle or being treated like second-class citizens. We're making our presence known by lifting our voices in politics, business, entertainment, music, and other professions as well," she explained.
TAKING BACK HER IDENTITY AND HER POWER
The first step for Mechelle has been taking back her lost identity and reclaiming her maiden name: Mechelle McCain.
It is as Mechelle McCain that she is relaunching her career in the entertainment world and pursuing her long-delayed but never-forgotten dreams.
The court ordered Epps to pay McCain $25,000 every month in spousal support
MOTHER, ACTRESS, AND PHILANTHROPIST
Mechelle's new life is busy indeed, as she juggles mothering two teenagers with her resurging acting career.
And that's not all. Mechelle has her own non-profit organization, Kids Love and Health Foundation.
The organization's aim is to teach underprivileged youth and children health and wellness skills, and to and providing them with opportunities to succeed.
Well done Mechelle McCain. You go, girl.
MIKE EPPS MOVES ON
While Mechelle McCain is busy laying the foundations to a meaningful life, Mike Epps has moved on and become engaged to his TV producer, Kyra Robinson.
Epps's divorce from McCain was messy, protracted - and expensive. The court ordered Epps to pay McCain $25,000 every month in spousal support for six and a half years unless she remarries, and an additional $15,000 in child support.
Just 8 months after the divorce was granted, Epps announced his engagement to the much younger Robinson on Instagram and celebrated the occasion with a lavish party.
Please fill in your e-mail so we can share with you our top stories!