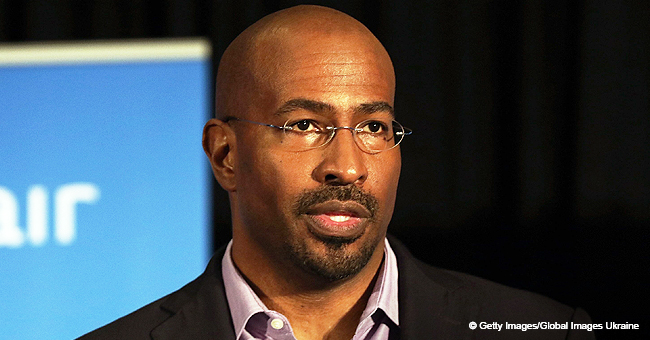 Van Jones Takes a Dig at Wendy Williams after Divorce Question
CNN host Van Jones managed to put Wendy Williams in her place when the talk show host brought up his divorce during an appearance on her show. Jones reminded Williams, who is currently in the midst of a divorce that the joke could as well be on her.
Van Jones was on Tuesday's episode of "The Wendy Williams Show" when the famed host brought up the topic of his ongoing divorce from Jana Carter.
"They are getting a divorce. The divorce is not finalized," Williams told the audience about Jones.
"I am not proud of my recent actions and take full accountability and apologize to my wife, my family, and her amazing fans."
She then addressed him, saying: "You still wear your ring."
"The Van Jones Show" host then shot back:
"You got something on your hand, too, so I ain't talking about that."
Jones, 50, was referring to the enormous floral ring Williams has been wearing since she ditched her wedding ring. Flustered, the daytime host reminded her guest that she'd be the one asking the questions.
After Jones explained that he and Carter will always remain friends, Williams asked if he'll still be wearing his ring while dating.
"You getting personal man! First of all, I got no dating life," he replied. "I've been off the market for 20 years. Now, you gotta go on apps and put all your information in there. I ain't doing all that, man. I'm good. I'm just trying to save the world."
Jones announced his divorce last September with a selfie of himself and Carter. "Divorce means the end of a marriage, not the end of a family," he captioned the pic.
Williams, meanwhile, filed for divorce earlier this month from Kevin Hunter, her husband of nearly 22 years.
According to USA Today, Williams' attorney, Mary Vidas, confirmed the filing but declined to comment further on what she called "a private family matter."
The divorce filing followed reports that Hunter welcomed a daughter with his alleged longtime mistress, Sharina Hudson, in March.
Hunter responded to his estranged wife's filing last week with a lengthy statement that seemed to confirm the infidelity allegations.
"I am not proud of my recent actions and take full accountability and apologize to my wife, my family, and her amazing fans," said the TV producer. "I am going through a time of self-reflection and am trying to right some wrongs."
Williams, 54, has also reportedly fired Hunter, 47, from his executive producer position on her show while the latter is said to be negotiating a multi-million dollar settlement in the divorce.
Please fill in your e-mail so we can share with you our top stories!