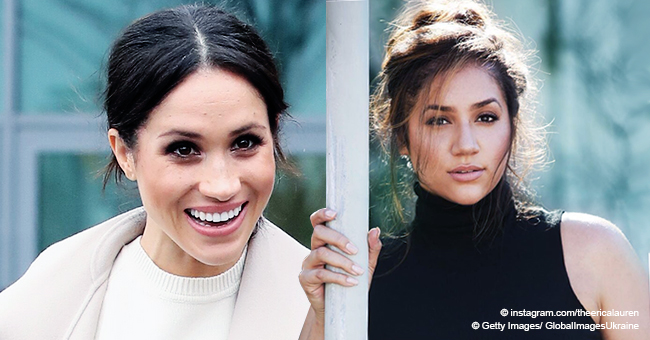 Plus-Size Model Looks so Much like Meghan Markle's Twin Sister – It's Easy to Do a Double Take
With Meghan Markle's rise into the spotlight as the latest member of the royal family, lookalikes of the American beauty have popped up all over the internet.
The person with the most striking resemblance to the Duchess of Sussex may just be the California plus-size model, Erica Lauren.
Lauren hails from Pasadena, California and caught the public eye when the photos for a campaign she modeled for went viral.
Coincidentally, Lauren lives less than an hour away from the very hospital Markle was born in, though we'll leave the conspiracy theories for you and your imagination.
A quick look through Lauren's Instagram account and you'll immediately see why the model has become the center of attention.
Her features, hair color and skin tone, are strikingly similar to the American Royal. Her photos are capturing the public's imagination.
For the Simply Be campaign, wore her hair in a half up style, similar to Markle's wedding day hairstyle.
The campaign was a home-run, and the photos have given Lauren's career as a model a real boost. Arieta Mujay, head of communications for Simply Be, said:
"Being a proud British brand, we understand the buzz around a royal wedding. The resemblance was obvious at first sight, so that was a factor in casting her for the shoot. However, the main reason is that she is a real curvy girl and a fantastic model."
However, being a royal lookalike is not without its drawbacks, as one New Zealand social media user found.
Stephanie Murray, who had the opportunity to meet the Duchess, has had to deal with users on Instagram messaging her and urging her to be more "duchess-like." She said:
"People messaged me and said it wasn't very duchess-like, but I was like, 'I'm not a princess—I'm Stephanie!'"
She's taken it in her stride and is just honored that people see a resemblance, even though she doesn't harbor any desire to be a royal herself. Murray explains:
"I'm all for Meghan's stand on feminism and animal rights, but I definitely wouldn't be able to live the royal life she does because I need my freedom."
Please fill in your e-mail so we can share with you our top stories!