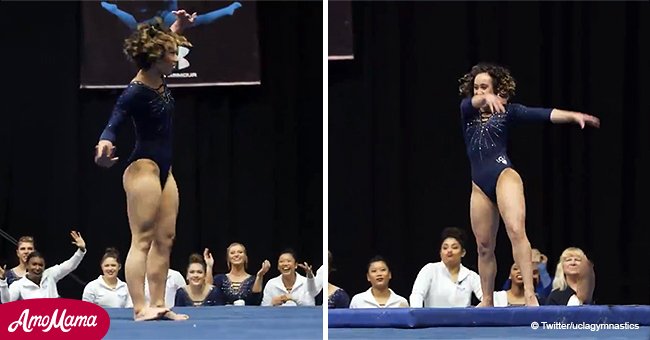 UCLA Gymnast Stunned Judges with This Flawless Floor Routine and Got Her Perfect 10
The talented UCLA gymnast, Katelyn Ohashi landed a perfect 10 in California with a fantastic floor routine that has gone viral.
On January 12, 2019, at the Collegiate Challenge in Anaheim, Katelyn stunned with a Michael Jackson medley floor routine that earned her a perfect score.
In 2018 at the Pac-12 Championships, she earned a 9.95 with a Michael Jackson-inspired routine, which she added onto for her awe-inspiring performance on the previously mentioned night.
Katelyn started her routine off to Michael Jackson's "The Way You Make Me Feel," as she went into three tumbles, and a perfect split landing. The crowd erupted with applause to the energetic start of her routine, as she continued.
Since UCLA shared the video, it's been viewed more than 40 million times, and it's no surprise as Sports Illustrated described it as pure "perfection," while HuffPost called it "flawless." After her performance, UCLA tweeted that a "10 isn't enough."
Towards the end of her routine, she performed a logic-defying split which she rose right back up from. Her skill and flexibility were astonishing throughout her rhythmic routine, which she performed flawlessly.
Her teammates on the sides were dancing and cheering along as she powered through her routine with a smile beaming across her face, making her difficult routine look effortless.
At the beginning of her career, Katelyn trained at the Great American Gymnastics Express (GAGE) with Al Fong as her coach, in Blue Springs, Missouri.
During her debut on the national gymnastics scene, she placed first on the floor exercise, tied seventh on the vault, tied for second on the uneven bars and got placed fourth in the all-around.
Following her strong debut, she moved to Plano, Texas to train at WOGA (The World Olympic Gymnastics Academy). Her performances over the next two years only improved.
In 2011, Katelyn performed one of the most challenging beam routines ever attempted at Nationals and featured a standing Arabian, a full-twisting back layout, an Onidi followed by a piked full-in dismount.
During Nationals she also won the floor and bars routine, aside from her astonishing win on the beam, and finished fourth on the vault.
In March 2013, Katelyn defeated her U.S. teammate, Simone Biles to take the 2013 American Cup, but in April she received shoulder surgery and took the rest of the year to recover.
The following year during an interview at the 2014 WOGA Classic she said that she was unsure of her future in the top levels of international gymnastics after her injury.
Unfortunately, she had another injury later in the year that required her to get back surgery and was unable to compete until the following year.
From the hometown of Newcastle, Washington, the 21-year-old Katelyn bounced back and is the reigning NCAA co-champion in floor exercises, and was also NCAA team champion for 2018.
Simone Biles, also 21 years old, suffered a medical emergency right before the Gymnastics World Championships in Doha last year. After being rushed to the hospital, they found out the Simone had kidney stones.
None the less, Simone powered through having little sleep the night before as she only arrived home after one is, and delivered top class routines just hours later, in spite of the pain she felt.
Their hard work and dedication to their passion, while pushing through the pain to keep going is what makes these two ladies phenomenal gymnasts, that and heaps of talent. What a pleasure to watch!
Please fill in your e-mail so we can share with you our top stories!