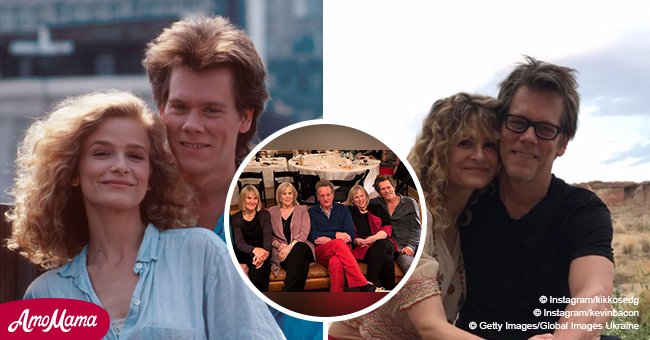 Rare Photo of Kevin Bacon's Big Family Looking so Happy Together

The 60-year-old actor shows us all that, when the festive season rolls around, the time is best spent with family. American actor and musician Kevin Bacon is an inspiration to us all.
On December 30, 2018, he posted a picture of his family reunion on Instagram in a bid to celebrate the new year.
Tagged "BaconDay," the picture, which is in itself uncommon, showed members of the Bacon family seated together on a couch with tables littered with plates of eaten dinner in the background.
The full text of the caption reads: "Happy #BaconDay to some of my favorite Bacon's @karinbacon@elinorbacon7 @michaelbacon36@baconhilda #KiraBacon."
Bacon may be a world-famous actor, but the roles he is best at are being a doting dad and a loving husband. He is immensely proud of his family. He and his wife, Kyra Sedgewick, have been married for about 30 years now and they have two children, Travis and Sosie.
Both are following their parents' footsteps in showbiz with Travis being a musician and an actor like his dad and Sosie, an actress. The Golden Globes winning power couple met when Bacon performed in theatre; he was 19 at the time, but he had no problem winning the heart of his then 12-year-old would-be wife.
When the couple met again on the set of the 1988 PBS remake of the play Lemon Skye, Sedgewick was not so impressed with him. In an interview with CNN's Piers Morgan in 2012, she admitted;
"And my first thought was, 'He's really cocky, and he thinks he's so cool.'"
In what could be termed a dramatic plot twist, Bacon was besotted with her, this much he revealed when he appeared on Morgan's show.
"I found her, you know, really very beautiful and sexy and aloof. And I was just immediately in love with her, and she was just immediately put off by me," said Bacon
He then decided to put in the work to win her over by taking the whole cast out to dinner, only that she always declined the offer; leaving him stuck with a big check and nothing to show for it.
He switched tactics when they filmed a scene where he was to massage oil into her back. He recommended a masseuse at his hotel, hoping to run into her after her; and it worked. They have been together ever since.
When asked for advice on how they stayed together, interviews they'd given revealed that both saw their commitment to each other as a lifelong thing.
"Both of us knew this was forever and we were going to work it out no matter what happens, so when we fight, it's not so scary. You can't be honest with someone if you think that they are going to leave," Sedgewick said.
This philosophy kept them together all through the pressures of work, raising children and even when they lost millions in a Ponzi scheme.
Kevin Bacon and Kyra Sedgewick are indeed one Hollywood couple to look up to.
Please fill in your e-mail so we can share with you our top stories!