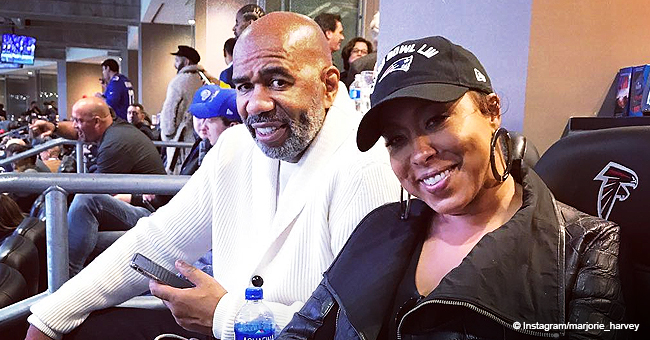 Steve & Marjorie Harvey Respond to Divorce Rumors
Steve and Marjorie Harvey addressed rumors of an impending divorce in the funniest way with a video that featured son Broderick Harvey Jr.
The couple has been married for 11 years now, but recent gossip surfaced on Radar Online that the two were nearing a split.
The talk show host and his wife shut down the baseless claims with a quirky video over the weekend. The post is found below.
In it, Harvey Jr. approached his parents and asked if the rumors of their divorce were true. Steve and Marjorie react with puzzlement but pretend that it must be true.
Steve, 62, asks his wife when she's leaving him. Marjorie is clueless and says she's also read it somewhere. She asks her son when she is supposed to be leaving her husband.
"Again?" Marjorie says at one point. Steve also says that there are reports he is broke, so his wife will have to bring back her clothes. At that, Marjorie examines her gorgeous black gown.
Steve chips:
"You gotta take all of that off."
Just before the video ends, Marjorie wants to know:
"Did you spend all the money or did I spend all of it?"
The hilarious skit ends there and in the comments, people commend the couple for handling the rumors the way they did.
The two were attending the Kentucky Derby together when they filmed the video. In addition, to the clip, Marjorie shared an array of videos and pictures throughout the event.
If social media is anything to go by, the two appear to be happily married at the moment. Days ago, Marjorie also shared a picture of a home bbq with the caption, "Bbq at the Harvey's."
She smiled as she held some kitchenware over the grill and looked into the camera with Steve. Both wore sweaters with Marjorie also wearing a black cap.
Soon, the pair will celebrate a dozen years of marriage together much like they celebrated last year. In 2018, Steve and Marjorie honored their 11th anniversary by sharing photos of each other to Instagram.
For his part, Steve posted a photo of Marjorie wearing a dazzling low-cut black dress. In the caption, he said, "this woman has given me the absolute best years of my life."
As for Marjorie, she shared a more intimate photo of her and Steve kissing near a beach seen in the background. She wrote, "11 years down... a lifetime to go" in the caption.
The two met in Marjorie's hometown of Memphis and dated for three years before exchanging vows in 2007. Marjorie's three children from a previous marriage – Jason, Lori, and Morgan – became Steve's stepchildren.
Likewise, Steve's four children from previous marriages – Brandi, Karli, Broderick Jr., and Wynton – also make up the large blended family. We hope moving forward the couple can continue to find the humor in rumors.
Please fill in your e-mail so we can share with you our top stories!