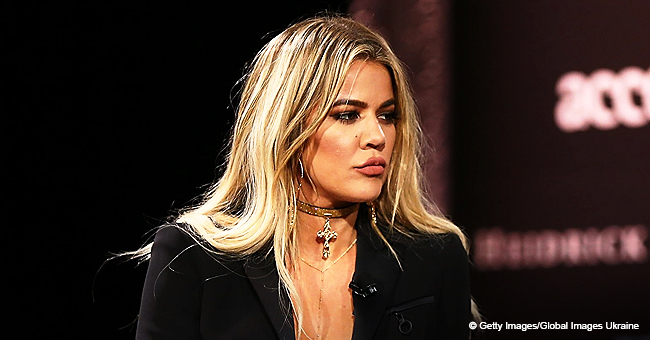 Khloé Kardashian Responds to Troll Who Criticized Her for Having a Nanny

Khloé Kardashian clapped back at an internet troll who tried to mommy-shame her for having a full-time nanny.
Khloé Kardashian has had a hard year so far, dealing with the scandal of her ex Tristan Thompson's infidelity and the glare of publicity surrounding their relationship.
To add insult to injury, the reality star became the target for a mommy-shamer on social media, but she proved she can give as good as she gets.
KHLOÉ KARDASHIAN WAS SLAMMED
A social media denizen sharply commented that Khloé is always accompanied by a nanny whenever she goes anywhere with baby True.
This, the detractor claimed, was "a joke," since the reality star didn't even go to the market on her own.
"Khloe acts like she can't go anywhere without her nanny. [The] nanny is in every pic and place she goes. She can mother on her own. We all do it! What a joke. She literally can't go to the market, a party, or lunch without her nanny," @htdi_908 said.
Khloé is in fact, alone in most of the photos she posts with her 1-year-old, a direct contradiction of the Internet troll's assertion about the reality star's mothering habits.
On April 12, Khloé Kardashian celebrated her daughter True's first birthday with a lavish rainbow-themed party
KHLOÉ KARDASHIAN SLAMS BACK AT TROLL
Khloe did not let this attack go unchecked, and responded sharply to the troll:
"I can go anywhere and everywhere with whom I choose to. I choose to treat everybody like family that is in my house," Khloe said.
KHLOÉ KARDASHIAN TAKES THE HIGH GROUND
Khloé went on to explain that she shares the fun outings with True's nanny because she is also part of the family:
"I choose to invite whoever wants to come to fun outings. We all love and enjoy the farmers market and it's so fun to go places and create memories together. I hope you have a happy and blessed day. I also hope that you are very kind to the ones that are kind to you. The ones that are not, probably need your kindness even more," she said.
Khloé, who is a successful businesswoman as well as a single mom has been under the spotlight for a long time now, and it is heartening to see her handle the criticism of the mommy-shamers with such aplomb.
TRUE THOMPSON TURNS 1
On April 12, Khloé Kardashian celebrated her daughter True's first birthday with a lavish rainbow-themed party, and the little guests were treated with cookies with the birthday girl's face on it, and doughnuts with her name.
For the more adventurous, there were even ponies, who matched the party's rainbow theme with their pink manes and pastel saddles.
Khloé will be hard put to outdo herself with a more lavish bash when True enters the terrible twos.
Please fill in your e-mail so we can share with you our top stories!