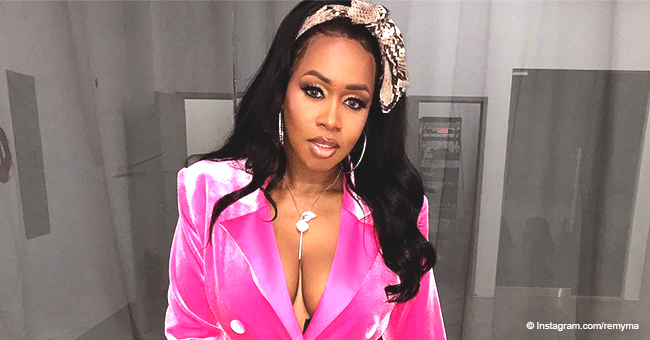 Remy Ma Shares Video Showing 'Golden Child' Reminisce 'Talking' at 4 Months

American Rapper, Remy Ma is the proud mom of a smart toddler as she shares hilarious but enchanting videos of her baby girl.
All excited and pumped up on her baby's day-to-day growth, Remy Ma couldn't contain her joy as she shared a three-video post on her Instagram page to the delight of fans.
"I had to share this with yall, People think I be exaggerating when I say she's really #TheGoldenChild never in my life have I seen a 4-month-old do what she does." The glad mom wrote.
"My baby says "hi." Look how she uses the same cadence as me. She also repeats the silly spitting thing her dad taught her (her favorite thing to do) and when she is watching her show, Mickey Mouse clubhouse, she be focused, her hands folded and everything."
The rapper concluded as well as adding a couple of hashtags.
As evidence, the videos showed baby Mackie at different times doing what her mom described in the caption. In one of the videos, Remy Ma is holding the little girl who makes charming baby sounds like a reply to Remy's "hi."
The next slide shows the baby making a hilarious repetition as her dad playfully sputters. In the final clip, Reminisce is sitting up as she pays rapt attention to the TV while the sounds generated indicate the "Mickey Mouse Clubhouse" show.
The star rapper and her spouse, Papoose, welcomed their baby daughter Reminisce Mackenzie Mackie in December 2018.
"She makes everything so peaceful; everything is just so calm. She really completed the whole circle," Remy said of her daughter during Reminisce's first-time on-screen appearance on the daytime show, "The Real."
The celebrity mom went on as she recounted a time when she had panicked due to a health scare that sent her running to the hospital a while after she gave birth.
"After I had her, my blood pressure was really high and my body … I was still dilated three days later, so they had to bring me in. I had three blood transfusions, and it was just really, really crazy. I was scared because I was worried about her, but she was fine." Remy said at the time.
Although the couple has five kids altogether from previous relationships, Baby Reminisce is their first from their 11-year-old union.
Please fill in your e-mail so we can share with you our top stories!