Michelle Obama Explains Why She's Not Running for President
On May 11, Michelle Obama appeared for the second last stop of her book tour in Atlanta and explained why she wouldn't run for president in the 2020 election.
Gayle King, O magazine's editor at large, moderated the sold-out event at the State Farm Arena for an "intimate' 90-minute conversation with the former first lady.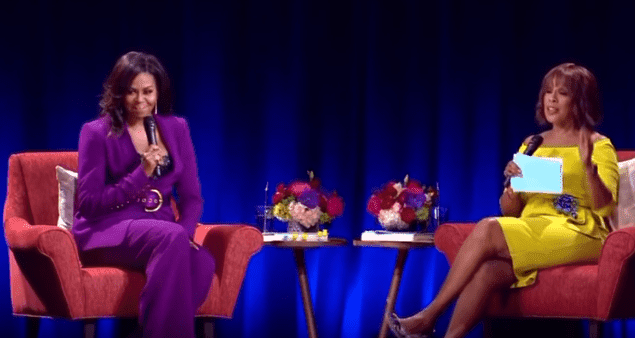 With the presidential election on everyone's lips, there are those who suggested that Oprah run for president, especially after her persuasive speech at the Golden Globes in January 2018.
But as King admitted, the talk show host won't run unless she "got a call from Jesus" and asked Michelle if she would consider such an undertaking.
"Here's the thing: People have to want to be in politics, it has to be their passion," Michelle said. "It's not just because y'all like them. Like Oprah, she's nice; she's got a great TV show, so she should be president. That's not how it works. We did that."
While the former first lady's comment seemed to be a subtle stab at President Trump, who stepped over from his hit series "The Apprentice" into the White House, Michelle Obama insisted her statement wasn't meant to cast "political shade" over the current president.
Michelle Obama explained that being president requires "intelligence" and an understanding of history while the right temperament for politics and patience are also paramount.
"As a mother what you do not understand, if you're asking me to run, is the toll it takes on the people around the president," Michelle elaborated. "It is a heavy ask. My children are graceful, wonderful, and they are champions to have made it through eight years alive on the other end of this. I am grateful."
With Michelle's focus on her two daughters, Malia and Sasha Obama, she spoke of her bold vision for them during the final episode of a favorite podcast 2 Dope Queens with Jessica Williams and Phoebe Robinson in November last year.
While she is determined to help Sasha and Malia reach their full potential, she encourages them to speak their mind.
"What my parents did was that they saw that flame in me, and they kept it lit," Michelle explained. "So, right now, I think I want to fan their flames… I want to get them used to maybe overstepping a little bit 'cause sometimes with women you don't step up enough."
The day after Michelle's appearance in Atlanta, she received a special message from Barack Obama for Mother's Day.
As a surprise, Barack put together a video for Michelle at the final stop of her book tour for her bestselling memoir, "Becoming."