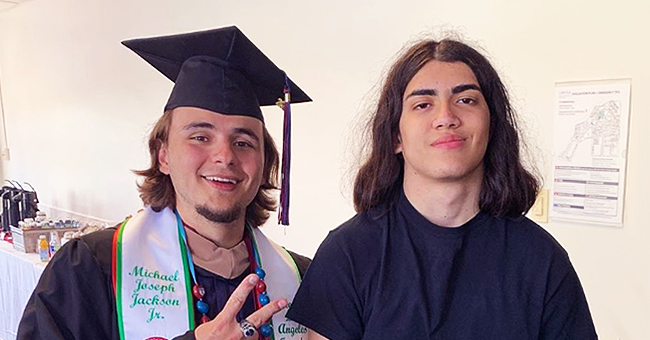 instagram.com/princejackson
Michael Jackson's Youngest Son Blanket Looks so Grown-up at His Brother's Graduation
Prince Jackson graduated from college over the weekend and his brother Blanket emerged out of hiding to support him.
Prince, 22, was joined by family and friends for his graduation from Loyola Marymount University where he earned a degree in Business Administration.
He posted photos and a video of the celebrations to his Instagram account on Monday, and brother Blanket was spotted in two of them. The photos are found below.
Prince wrote in his caption:
"I met so many people and learned so much that the experience alone is worth it. I wish I could thank everyone that helped me make it to the end but I can't and unfortunately they're not all pictured here."
He sent out his biggest thanks to cousin TJ Jackson and his brothers. TJ, in turn, wrote a comment expressing his love for Prince and promising to continue supporting him. "The world is yours. Dream big and impact this world!" he wrote. He also congratulated him on Twitter.
Prince continued his caption saying, "Honestly I can't tell you if all of it was worth it yet but I am proud of my degree as I believe it is a testament to my dedication and discipline."
Prince also said he was thankful to the school for implementing Jesuit values as "they inspire graduates [...] to continue to change the world for the better."
Blanket, 17, has been staying out of the spotlight since his father's death in 2009. In comparison, brother Prince and sister Paris have been regularly sharing their lives on social media, with Paris also working as a model.
Blanket is famously remembered for the time his father dangled him over a balcony as he tried to show him off to the world at nine months old. Afterward, he was spotted with his father and siblings until the legend's death.
According to Yahoo, Blanket last appeared on a photograph on his sister's Instagram in 2017. In this recent picture, he posed side by side with Prince and both brothers smiled at the camera.
He's also spotted in another group photo that featured Prince surrounded by several friends and family including TJ and Latoya Jackson.
Prince previously attended the Buckley School while Blanket is currently attending a private school in Los Angeles and is under the guardianship of cousin TJ.
Prince and Paris' mother has been staying under the radar as well, yet she made a rare appearance last month to see Paris perform. Rowe, 60, visited a Hollywood club named The Mint and even spoke about her daughter to the press.
According to the Blast, she told reporters:
"She loves everybody, from The Beatles to her father …She's very eclectic."
She smiled in photographs taken with Paris, who later performed with boyfriend Gabriel Glenn. The two are part of a band called "SoundFlowers." Brother Prince, singer Chris Brown, and godfather Macaulay Culkin were also there to support her.
The performance was the first since Paris allegedly attempted to commit suicide on March 16. People magazine reported that the Los Angeles Police Department spokesperson confirmed the event in which Paris was transported to a hospital.
In response, however, Paris wrote a now-deleted tweet saying that it was "lies lies lies omg and more lies." The rumors followed a documentary made about her father alleging that Michael committed sexual abuse. "Leaving Neverland" premiered on HBO in two parts in January.
Please fill in your e-mail so we can share with you our top stories!