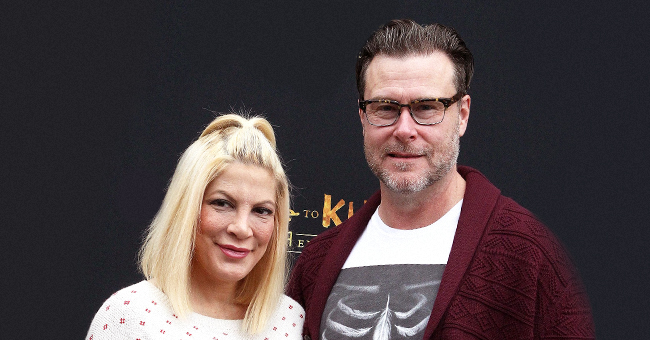 Source: Getty Images.
Tori Spelling Reveals Whether Her Husband Is Joining the BH90210 Cast

With the premiere of "BH90210" just around the corner, Tori Spelling shared more on the Beverly Hills: 90210 teen drama revival and whether her husband, Dean McDermott would be joining the cast.
On Monday, Tori, who played Donna Martin in the original series told Access, "No! I don't know where that [rumor] came from," she said. "We're all playing heightened versions of ourselves, but all completely scripted, fictitious characters. Our spouses, children, everyone will be completely different."
Gabrielle Carteris, who portrayed the role of Andera Zuckerman chimed in, "It's not 'us,' us." While the 55-year-old Ian Ziering (Steve Sanders) said that the revival would be "more like a sister-reality."
"It's basically us portraying ourselves, but in imaginary circumstances with certain threads of truth and realism," Ian added. "It'll leave the audience wondering, 'Did they really do that? Did that really happen?'"
The series' first trailer came out on May 13 wherein stars from the original series listened to the theme song in unexpected places and featured Brian Austin Green (David Silver), Jenny Garth (Kelly Taylor), Shannen Doherty (Brenda Walsh), Jason Priestly (Brandon Walsh), along with Tori, Ian and Gabrielle.
With Luke Perry as the only missing cast member of the revival, Jason Priestly told the Associated Press more on doing the series without him, as Luke died in March after he suffered a massive stroke. "Luke was a huge part of our 90210 family, and personally, Luke was a very large part of my life," he said.
To Us Weekly, Tori Spelling gushed that the cast is "so excited to go back to work together" and likened it to a high school reunion. "We all love each other very much, and we're excited," she added.
Fans got their first taste of the revival early in May when Fox released their first promo for the upcoming series.
In the clip, it looked like a joyous family reunion among the original cast members until Ian Ziering walked in with the pilot script. "There it is baby," Jason Priestley said as he flashed the script to the camera.
They then got back to the business of reading their lines while they joked and laughed. As the group came together for a group hug, the tagline, "The gang returns home" appeared.
The group of "excited" cast members attended the 2019 Fox Upfronts at New York's Beacon Theatre on Monday.
During the much anticipated annual event, Fox pitched their upcoming lineup to advertisers wanting to get in on the action. Other stars that attended the event included, Jamie Foxx, Rob Lowe, Nick Cannon, Angela Bassett, Jennie McCarthy, and Timothy Hutton among others.
BH90210 is set to premiere Wednesday, August 7, at 9 p.m. ET on Fox.
Even though the cast members are painfully aware of Luke Perry's absence, the reboot still promises to honor him.
Before his death, Luke had not signed up for the revival but David Stapf, CBS TV Studios President, confirmed that the series would pay tribute to the late actor.
Please fill in your e-mail so we can share with you our top stories!