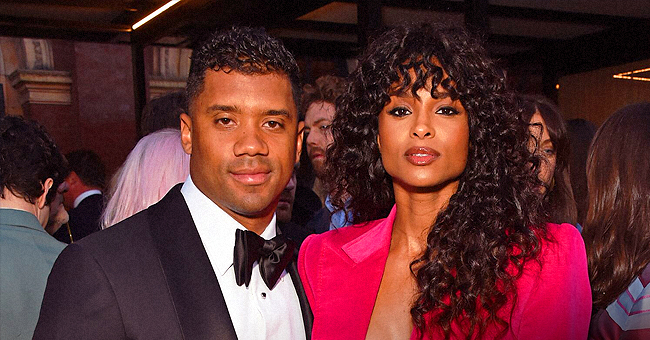 Getty images
Ciara on the Prayer She Prayed Before She Met Husband Russell Wilson
Finally! singer Ciara answered her fans' long-awaited question about what prayer brought her loving husband, Wilson Russell.
Ciara, who was on a live stream hosted by Angie Martinez for the promotion of her new album "Beauty Marks" stated that she went to God in prayer about what she wanted in a relationship. Ciara is a single mother having had a son, Zahir Future, with rapper Future.
"I prayed for a God-fearing man. I prayed for discernment. I prayed for wisdom to learn from the wisdom that I've gained from the experience that I'm going through," the incredible singer stated during the conversation with Angie Martinez. "I prayed for a man that loved kids, because, obviously me having my son, if you're gonna love me you've gotta love him. I prayed for a man that was worldly as well. Because I love to explore so someone that was going to teach my world, that was important to me. I was ready to level up."
She then implored fans to "be specific" about what they want when they pray.
Wilson Russell, who plays as a quarterback for Seattle Seahawks, is currently the highest paid player in NFL history after signing a contract of $140 million with the football team.
Ciara and Wilson were rumored to have met in 2015 during the wrap party for the NBC Summer Series, "I can do that." The singer said they spotted each other from across the room and the attraction was instant and electric. They later learned that the chemistry between them was mutual.
Wilson also stated in an interview with "The Rock Church" in San Diego that Ciara had always been the woman of his dreams.
"I told somebody that's the girl I want to be with before I even met her," he said, "Before I met her, I was like, I'm probably going to end up with Ciara."
Russell also revealed that he and Ciara, as Christians, had taken a vow of celibacy until they were married. Ciara told cosmopolitan in an interview that the period of celibacy was the strongest resistance to temptation because hugs and kisses were involved, but they had to be careful not to go too far.
The pair became engaged during a vacation in Seychelles after the quarterback proposed with a 16-carat ring and the couple wasted no time in getting married four months after. The marriage took place at Peckforton Castle in Cheshire, England. Hundred family and friends were present. Celebrities such as La La Anthony, Kelly Rowland, and Serena Williams, were the singer's bridesmaids. Ciara and Wilson have since had a daughter together, the beauty named Sienna Princess Wilson.
The couple was seen together at the Vanity fair Oscars party earlier this year where they looked terrific in Versace outfits. Wilson was seen helping the singer adjust her dress as they took photographs on the red carpet in a video shared by her. The gesture didn't go unnoticed by followers who shared in Ciara's happiness and applauded the Wilson as seen by the comments under the Instagram post.
Wilson is a hopeless romantic and a loving husband who shows off Ciara on his Instagram and occasionally takes her on fancy date nights. He has also been a loving stepdad to her son despite several feuds with the boy's father, Future, over the years.
Please fill in your e-mail so we can share with you our top stories!