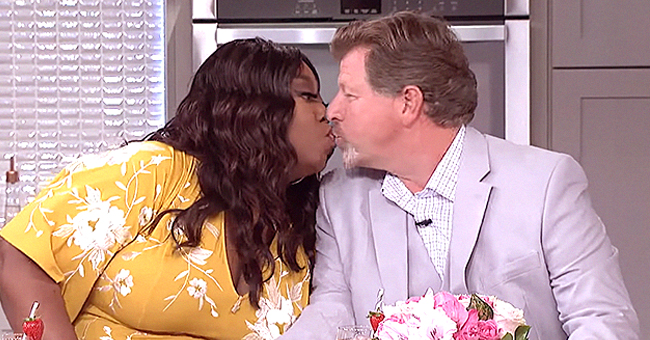 Youtube/The Real Daytime
Loni Love's Boyfriend James Welsh Makes On-Air Debut on 'The Real'
Loni Love has finally debuted her boyfriend on her show and fans were treated to more than just a glimpse of their relationship. They also shared an on-air kiss.
The audience of "The Real" were delighted to see that Loni Love has warmed up to the idea of sharing more of her boyfriend to the world. Actor James Welsh, the man she's been dating since late 2018 appeared on the comedian's talk show along with co-hosts Tamera Mowry and Adrienne Houghton's husbands, Adam Housley and Israel Houghton.
KEEPING EACH OTHER IN LINE
Loni welcomed James to the show beaming with pride and even surprised the crowd by displaying her affection towards him.
The highlight of James' appearance was during the part where Israel and Adam gave him advice about dating Loni. Israel first lauded James for the "milestone" of appearing on the show.
"I would say that whatever you did to get here, keep doing that," the musician said.
Israel also reminded James that "Loni is a boss" to which the actor replied, "She keeps me in line."
Adrienne's husband further concludes that because James managed to reach the level of relationship he's in with Loni, "I think there's probably some of you keeping her in line too."
A SURPRISE KISS
At that point, the couple responded with a kiss to the surprise of everyone on the set. Loni followed it up with a sweet rub on James' cheek to remove the stain of her lipstick.
"Oh my God!" Adrienne squealed expressing what everyone else was thinking.
Meanwhile, Adam only had a one-word advice for James, "Drink."
GHOSTED NO MORE
Loni and James have been sharing glimpses of their romance on Instagram ever since Loni admitted they were in a relationship. The couple became exclusive on Christmas Eve in 2018.
Loni previously dodged questions about her boyfriend at the start of their relationship cautious of spilling too early. However, in November, the "satisfied single" finally opened up to her co-hosts who also revealed James ghosted Loni after they first met. At the time, Adrienne tried to dig deeper into why that happened but Loni said it was best if James answered that question when he appears on the show one day.
That day has come but apparently, the ghosting incident didn't come up. Does anyone really care at this point? Clearly, the couple is way past that and are showing signs of a bright future.
Please fill in your e-mail so we can share with you our top stories!