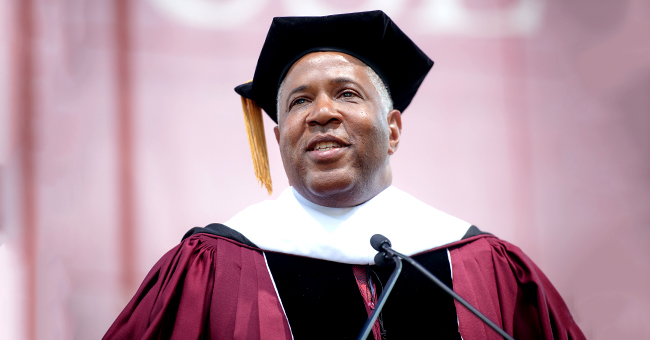 Getty Images
Billionaire Robert F. Smith to Pay off Morehouse Graduates' Student Loans
Graduating students at Morehouse College were pleasantly surprised on Sunday when investment billionaire Robert F. Smith announced plans to pay off all their student loans.
Smith, a tech investor, and philanthropist, was delivering his commencement speech at the historically all-male black college when he dropped the happy bombshell.
"On behalf of the eight generations of my family that have been in this country, we're gonna put a little fuel in your bus," said the 56-year-old, according to BBC.
"This is my class, 2019. And my family is making a grant to eliminate their student loans."
The Atlanta Journal-Constitution reports that Smith, who received an honorary doctorate and had earlier announced a $1.5m donation to Morehouse, said his family was creating a grant to pay off the student debt of the entire graduating class.
'When you have to service debt, the choices about what you can go do in the world are constrained.'
CNN notes that the graduating class is made up of 396 students and that although the exact cost of Smith's generosity has not been determined, it will likely run into tens of millions of dollars.
BBC also adds that the entire students' loan is estimated to be at least $10m or significantly higher.
Aaron Mitchom, a 22-year-old Morehouse graduate, told AP News agency that he was overwhelmed to find out that he would not have to pay back $200,000 in loans he had taken out to fund his finance studies.
"I was shocked. My heart dropped. We all cried. In the moment it was like a burden had been taken off."
"When you have to service debt, the choices about what you can go do in the world are constrained. [The grant] gives them the liberty to follow their dreams, their passions."
Smith, according to a CNN profile, is the wealthiest black person in the United States, with a net worth of $5 billion; he ranks as Number 355 on the Forbes Billionaires List.
Smith is also the founder, chairman, and CEO of private equity firm Vista Equity Partners, which he established in 2000 to invest in software companies.
Please fill in your e-mail so we can share with you our top stories!