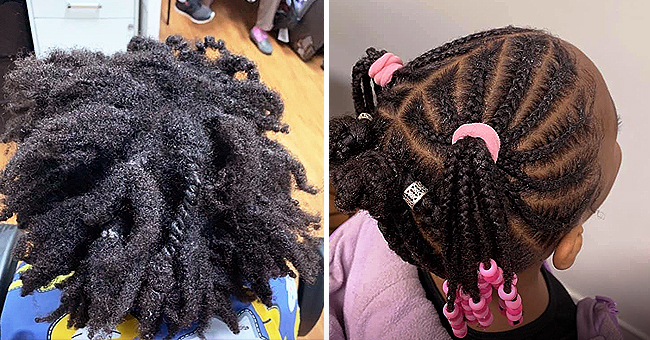 Facebook/styles4kidz
Chicago Stylist Is Teaching White Adoptive Parents How to Care for Black Kids' Hair (Video)

Tamekia Swint tries to make a difference as she reaches out to Transracial parents on how to perform good hair care for their African-American kids.
The viral video on "The Shades Room's" Instagram page shows Swint going about her business while white parents pay rapt attention to the procedures of caring for their kid's hair texture.
The Chicago stylist created her company, "Styles 4 Kidz" 9 years ago after she noticed that most adoptive white parents had no proper knowledge on handling their children's natural hair.
"Hair is important for African-American kids because your hair is your crown when you feel good about how you look, that propels you into the world as a productive citizen," Swint says as she explains in the video that the adoptive parents needed sensitization concerning their kids' hair.
Swint stated that although she faces financial challenges, the passion for making the kids feel good about themselves keeps her going.
"I see a mom feel like there's no hope, here, she had an environment of support," the entrepreneur continued while referring to her company as a sort of "support system" for helpless parents. "This is about giving the kids what they need so that they can feel beautiful," Tamekia concludes.
Speaking with "Oak Park," Swint explained that her resolve to venture into creating the hair school grew stronger with the increase in non-Black adoptive parents. The mom-of-one added that many blacks hold "misconceptions" with regards to white adoptive parents that they don't give proper care to their African-American children.
A beneficiary of Tamekia's thoughtfulness, Laura Basi shows appreciation as she explains how much "Style 4 Kidz" has helped her despite the unavailability of black hair resources in her locale.
"I want to learn how to care for my children's hair, and this is the best place for me to learn how to do that. I live in Batavia where there's not any place I can take them for hair care," the mother-of-two said while including that she is trying to gain as much knowledge as possible about African-Americans so as to relate better.
Tamekia Swint started "Styles 4 Kidz" with just three clients; presently, the Chicago stylist helps over 500 transracial families. She also organizes workshops for parents who want to learn how to make their children's hair.
Please fill in your e-mail so we can share with you our top stories!