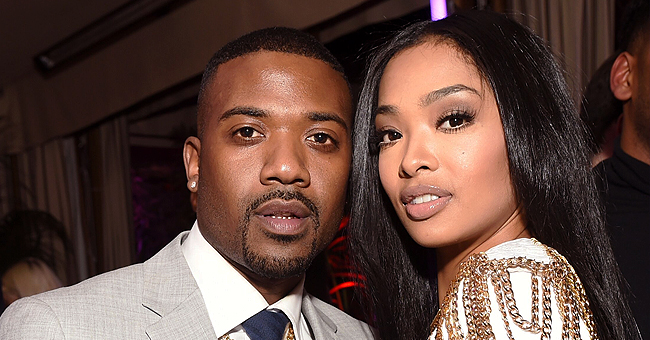 GettyImages
Ray J & Wife Princess Love Share Photos from Daughter Melody's 1st Birthday Photoshoot
Ray J and Princess Love's daughter Melody Love Norwood is celebrating her first year of life, and to mark the occasion, the proud parents set up a gorgeous photoshoot where the toddler looks like a princess.
Since she was born last year, Melody Norwood has become one of the most loved celebrity babies on social media, thanks to the pics and videos her parents share of her on Instagram.
Now, as Melody turns 1-year-old, fans can't stop gushing about her cuteness and how fast time seems to have passed.
CELEBRATORY PHOTOSHOOT
To mark the occasion, Ray J and Princess Love shared pics and a video from a birthday photoshoot they organized for their daughter. The set was decorated with balloons in different shades of blue, pillows, stuffed animals, a teepee, and golden and white letters in the back that spelled "Melody One."
"She's completed us as a family," Princess told Essence. "We've grown as people and as parents."
In the clip shared by Ray J, he's seen sitting with Melody on his lap, as the girl plays with a pink ball. She's wearing a flowy light blue dress and a headband to secure her curls, while her dad donned a matching blue t-shirt and jeans.
"Everybody wish my little baby @melodylovenorwood and HAPPY 1st BIRTHDAY!!," Ray J captioned his clip. And continued:
"I keep Thanking GOD 1000 times a day for the most special blessing I've received in my life! We are celebrating Melody Love being born all month long!! And even after that!! I love you sooooo much Melz!! #happybirthdaymelody."
Princess Love couldn't stay behind on the congratulatory posts. She shared a photo of Melody standing in front of the adorned set and looking to the side as the beautiful details of the back of her dress were in full display.
She captioned it:
"Happy 1st Birthday to my sweet, smart, beautiful, amazing baby girl. You have grown so much in just 1 year, but I've made sure to cherish every single moment... kissing your little hands and feet every single day so that as you grow, I can't say it just flew by. You will always be my baby, no matter how old you are. So happy and blessed to be your Mommy."
Fans of the "Love & Hip Hop: Atlanta" couple filled the comment section with their birthday wishes for Melody.
"Congrats to you as her mom Princess....the biggest accomplishment in life. I see how you give ur heart and soul to her. One already!!!" wrote one user.
And another added, "Time goes by so fast! Happy Birthday, baby girl. She's so cute!"
MELODY COMPLETED THE FAMILY
Princess and Ray J married in August 2016 welcomed baby Melody on May 23 last year. The couple documented the pregnancy and delivery journey and shared it with fans on "Ray J & Princess's Labor of Love," a one-hour VH1 special that revealed how, after 27-hours in labor, Princess had to undergo a Cesarean section.
"She's completed us as a family," Princess told Essence of Melody. "We've grown as people and as parents."
Ray J, known for his jokester nature, said he earned a new perspective in life after Melody was born.
"I'm playful with the baby, but I'm really serious about it," he said. "When the baby arrived, that's really when my emotions went to a whole other place…it really broke me down and humbled me and really made me a soldier for our relationship in its entirety."
TRYING FOR ANOTHER CHILD
The singer and reality star told US Weekly last March that he's ready to have a second baby already.
"I'm trying right now," he confessed. "I'm trying to get one in, and hopefully we can have another by April if it happens."
He added that it could be good for Melody to have a sibling close in age to her. "They could be friends and protect each other, like my sister [Brandy Norwood] and myself," he concluded.
Happy Birthday, Melody Love!
Please fill in your e-mail so we can share with you our top stories!