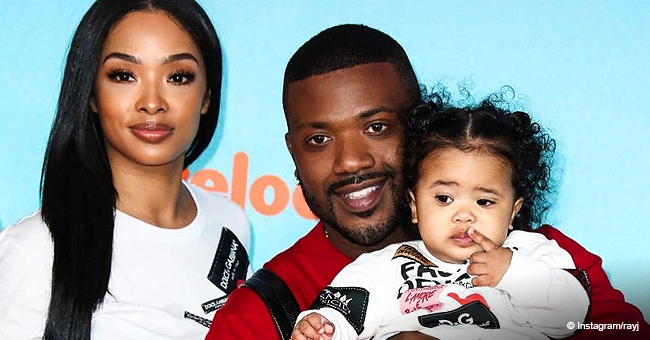 Ray J & Princess Love's Daughter Melody Captures Hearts, Looking like an Angel in Photoshoot
Melody Norwood looks like a little angel in a recent photo shoot, and her proud parents can't stop gushing about her adorableness. Ray J took to Instagram to share a series of pics and videos of the girl, earning praises from Melody's starstruck fans.
Ray J and Princess Love couldn't be more in love with their almost 10-months-old daughter, Melody Norwood; and they are not shy when it comes to showing off their gorgeous bundle of joy on social media, as the girl has taken front and center in each of their pages.
Although Melody's pics never fail to earn thousands of likes and positive comments, a pair of recent photos and a video from an arranged photo shoot the girl did, caused even more euphoria among her followers.
The short clip, shared by Ray J on Instagram, shows Melody donning a flowy white dress and a flower crown placed on her curly hair while posing on a mini bed with even more flowers adorning it.
Despite her age, Melody is already a model in the making, keeping still and looking forward to the camera like a pro while someone in the background tried to make her smile.
"Look at my baby @melodylovenorwood - so beautiful!! Words can't express the love," Ray J captioned the post.
Sonja Norwood, Ray's mom, and Melody's grandmother took to the comment section to gush about the baby girl, saying: "Oh my goodness, a blessing from above. Gramma's girl. A beautiful spirit! Joy! Love you, Melody, always."
While Princess Love added, "Mommy's beautiful angel, I still can't believe we created her."
Fans also chimed in to praise Melody. One wrote "She is seriously posing ahhh she's so cute," and another added, "I so love how she is just sitting there lol model in the making!!! Beautiful."
Ray J also shared two more pics from the photoshoot.
In the first one, Melody is sitting on a baby chair and rocking a lace shirt and a matching bonnet. The other features the toddler donning a purple shirt with lace details and another flower crown. Ray J captioned that one:
"God was working overtime when he blessed me with you babygirl! @melodylovenorwood - You are my heart and soul! You my everything! Daddy loves you so much!! - Look how pretty you are!!!! I can't even believe it sometimes. This is what a true blessing looks like!"
Ray J and Princess Love welcomed Melody on May 22, 2018, and since then, the little girl has been nothing short of a genius, shocking fans with her rapid development and undeniable beauty.
Just a few weeks ago, Princess shared a video of the girl wearing a pink "I woke up this cute" onesie and standing on to her cot while happily taking instructions from mom behind the camera.
"Melzy, say 'da-da,'" Princess asked, prompting the little tot to repeat the word. "Say 'duck,'" she requested again, getting a close-enough attempt out of the nine-month-old.
Melody's development has been incredible. She's already crawling and can stand with no support. In no time, she will be walking and talking to her parents' ears out.
Please fill in your e-mail so we can share with you our top stories!