Outraged Mom Discovers Her Long-Term Boyfriend Has Three Secret Kids: She Wonders What to Do
After maintaining a relationship for almost three years and with a six-month-old baby, this couple decided to move together and was even making plans to commit themselves when this bombing broke their perfect life.
A British woman has awakened an intense debate on social media after revealing her case. It turns out that her boyfriend for almost three years has suddenly confessed that he has three children with his ex-wife.
The 45-year-old man was once married in his 20s and divorced at 35. His parents died and he has no contact with other members of his family. So the woman had no reference to her previous life beyond what he shared with her.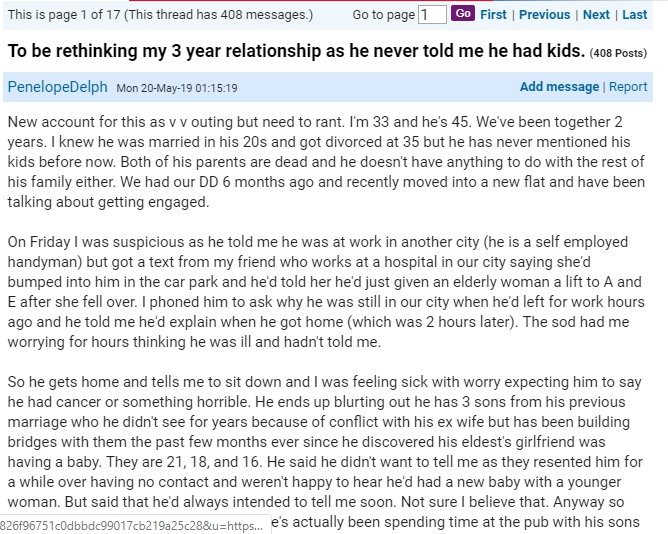 Everything was discovered because the man told her that he had to leave the city for work and a friend of the woman who works in a hospital in the city saw him entering that place, after having parked his car, he spent several hours without moving from there.
Immediately, the woman called her boyfriend to ask him why was he still in the city if he had been away for hours and the man answered that he would explain when he got home, which happened a couple of hours later.
During that time the woman couldn't stop imagining all kinds of terrible diseases that her boyfriend and father of her baby could be suffering. Filled with worry, her discomfort increased when, upon arriving home, the man told her to take a seat to talk.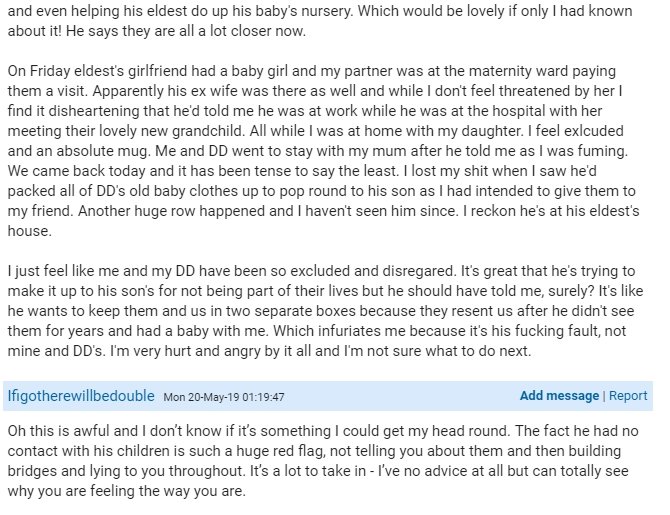 With thousands of horrible things in her head, like cancer, for example, she was shocked to hear the truth: that the man she loves and father of her baby had three other children from his previous marriage, with whom he had no contact since the divorce was resolved in very bad terms.
However, in recent months he had been in contact with his children, aged 21, 18 and 16 since the oldest was about to have a baby, which happened a couple of days before. He was in the hospital helping his daughter with the baby when he received the call from his girlfriend.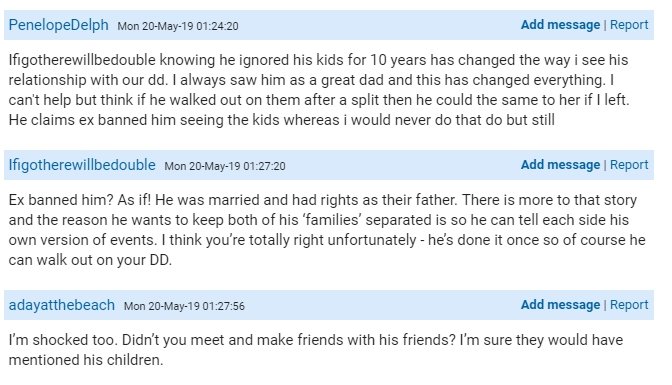 Incredibly during the last days when he said that he went to work, he really spent half the time with his children in a pub or with his eldest daughter preparing things for the new baby.
He told his girlfriend that he had not told her about his children before because they were a little annoyed with him for having a baby with a younger woman, but he had planned to tell her about them as soon as possible when she called him.
After hearing all this argument, the woman turns furious. She was obviously disappointed and hurt to have been left out of her partner's life in this way as if she wanted to have two separate compartments, one for each 'family'.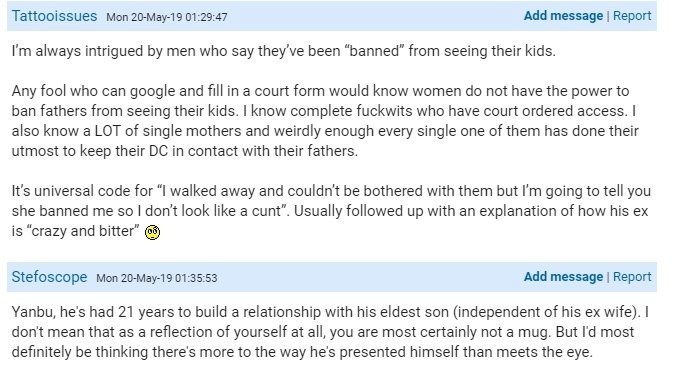 Furious, she commented her case through the media where she has received countless signs of support and solidarity. Many advised her to leave him even if he is the father of her baby because after lying and hiding his children for so long, it will be very difficult to trust him again.
Certainly, it is not an easy decision. It takes courage to face it and decide to forgive the deception and move forward forming a family.
This story reminds us of a woman from Perth who discovered that her husband and father of their twin daughters had another family just down the road. She was helping him with his luggage when she found the picture of his other son.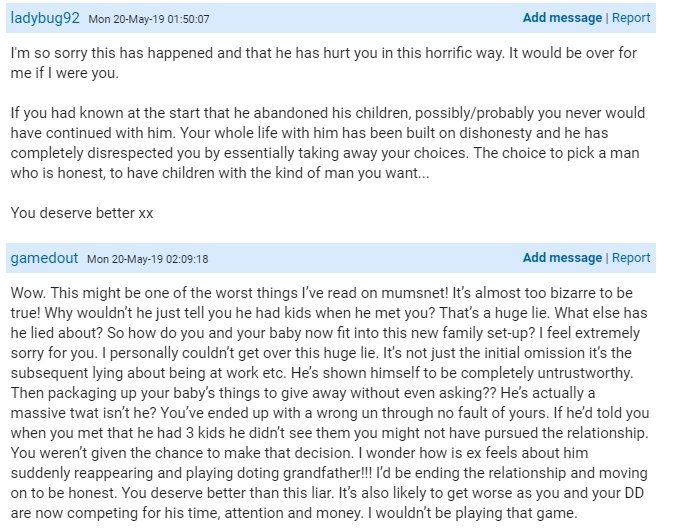 This two women will have to value the relationship they have had during all this time to decide if letting their children without their father or if it is worthwhile to trust someone who has hurt them and disappointed them so much.
Other women instead of trusting again tend to handle this kind of situations in a very different way, like this Colombian woman who used a baseball bat to teach her cheating husband a lesson.
The incident was caught on video by some witnesses and shared via Instagram on November 6, where it has been viewed more than 44.000 times and liked by more than 1.000 users.