Melania Trump Spends the Day with Akie, the Wife of Japan's Premier Shinzo Abe, During a 4-Day State Visit
On Saturday, President Donald Trump and the first lady Melania Trump arrived in Japan for their four-day state visit. The first lady also had some time to spend with Japan's Prime Minister's wife Akie Abe on Monday.
WELCOME CEREMONY FOR POTUS AND FLOTUS
An extravagant welcome ceremony was held for Donald and Melania Trump when they arrived in Japan. They were welcomed and met by Emperor Naruhito and Empress Masako.
Their visit to the country was quite historic as it was the first time a world leader has met with the country's new emperor. After the ceremony, the US president and first wife walked to the Akasaka Palace Annex in Tokyo.
President Trump and the First Lady are staying in Japan as the first State Guests of the new era "Reiwa"! TOKYO SKYTREE welcomes their historic visit with a special lighting inspired by the Stars and Stripes. Akie and I are looking forward to seeing them tomorrow ! pic.twitter.com/yMohHzRgWf

— 安倍晋三 (@AbeShinzo) May 25, 2019
WHAT MELANIA WORE FOR THE TOUR
Melania separated from her husband as she walked with Japan's Prime Minister Shinzo Abe's wife Akie Abe. They got to enjoy a series of performances which revealed Japan's rich culture.
The US first lady was treated to a display of traditional dances, music, and flower arrangement demonstrations. Melania looked stunning in a $4,290 white Carolina Herrera dress which was embellished with floral design embroidery.
President @realDonaldTrump and Prime Minister @AbeShinzo met for bilateral meetings and a working lunch at Akasaka Palace. pic.twitter.com/BWTS826ZXT

— The White House 45 Archived (@WhiteHouse45) May 27, 2019
MEETING THE FOUNDER OF A NON-PROFIT COMPANY
The first lady completed her look by wearing red stiletto heels. Melania and Akie also met with the founder and members of the organization "Shine On! Kids."
The organization is a non-profit company that supports sick children by facilitating activities with dogs who are trained to encourage children who are in hospitals. The organization was created by American Kimberly Forsythe.
トランプ大統領とメラニア夫人は、天皇、皇后両陛下との会見に臨みました。@POTUS & @FLOTUS were received by Their Majesties the Emperor and Empress of Japan. #POTUSinJapan 🇺🇸🇯🇵 pic.twitter.com/A08ST2PJQ5

— アメリカ大使館 (@usembassytokyo) May 27, 2019
She launched the nonprofit after she lost her son to cancer in Japan. After the meeting, Melania and Akie were treated to a Japanese bamboo flute performance, known as Shakuhachi.
トランプ大統領は安倍首相と共に皇居での歓迎式典に出席しました。@POTUS & @AbeShinzo at the Imperial Palace for the Welcome Ceremony. #POTUSinJapan 🇺🇸🇯🇵 pic.twitter.com/eCRuWD85Jx

— アメリカ大使館 (@usembassytokyo) May 27, 2019
BEING TREATED TO A FLUTE PERFORMANCE
Master flutist Yosuke Irie explained in Japanese how he made different sounds with his flute. Melania enjoyed the demonstration stating that one of his notes was "beautiful."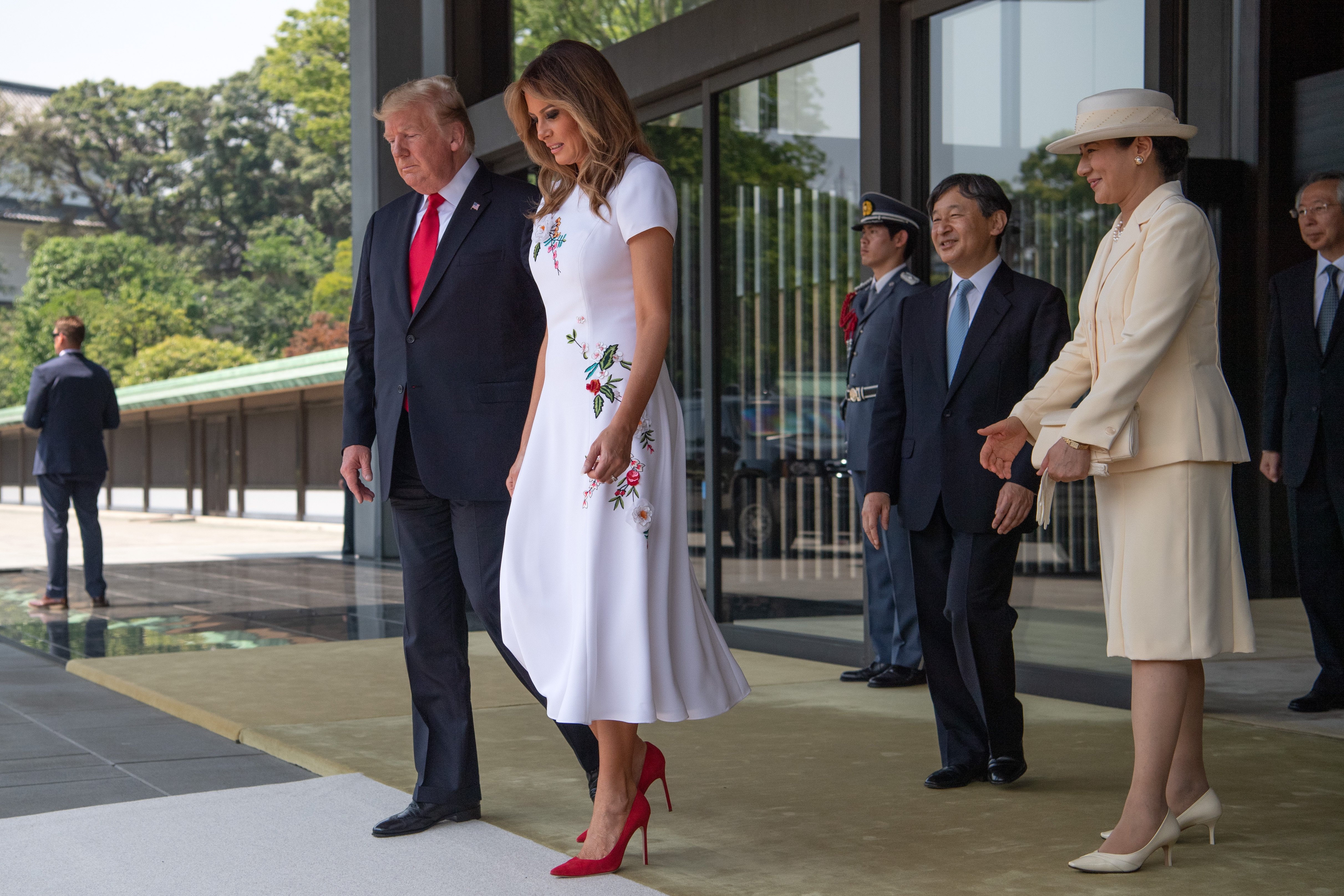 Irie was dressed head-to-toe in black and covered in bicycle/martial arts pads on his shins, knees, arms, elbows, and chest. He explained that his look was because he was a fan of new-age samurai fashion.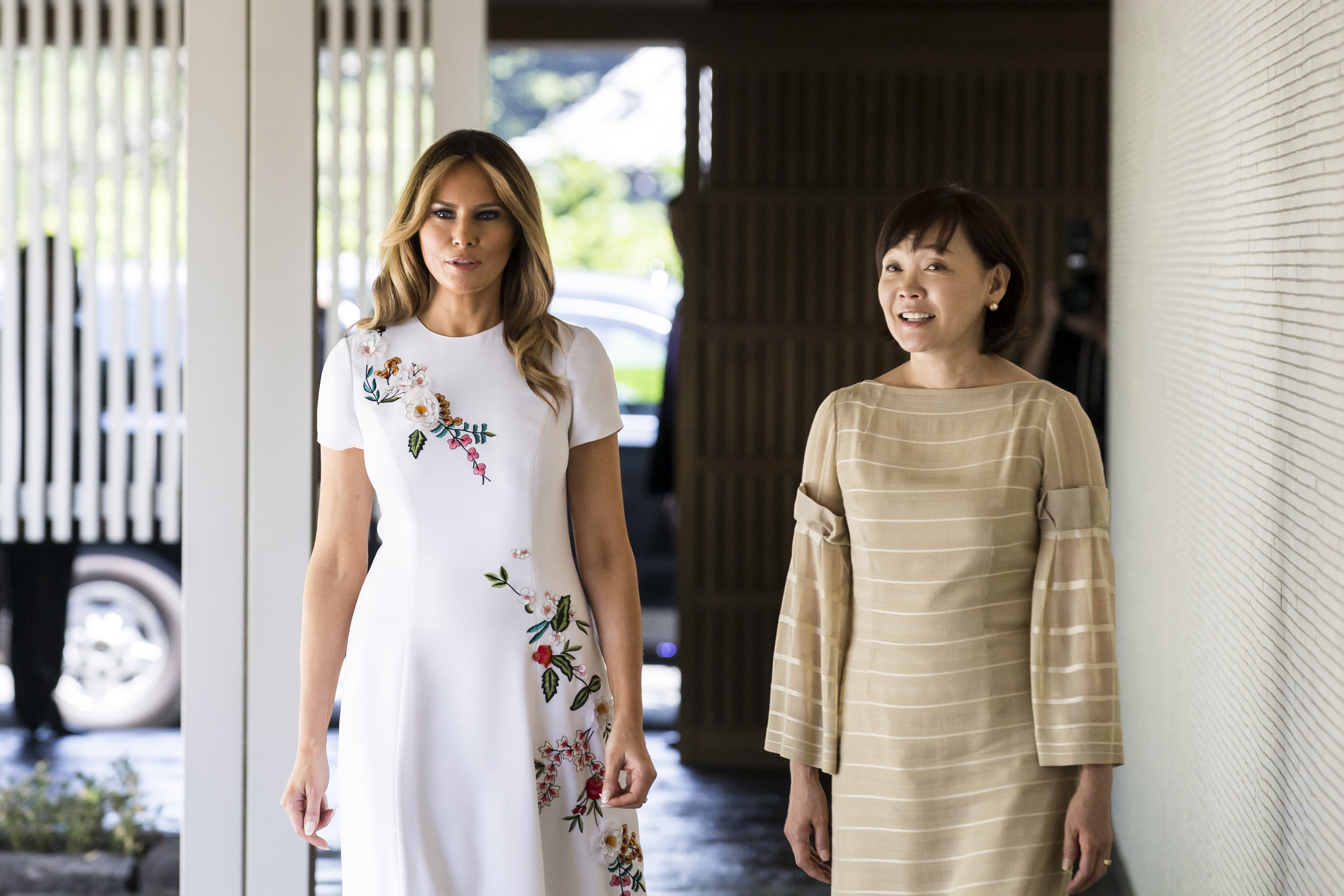 VISITING THE KOI POND
The US first lady appeared to enjoy the different performances and demonstrations as she applauded happily. She also had the chance to view the annex's koi pond and lunch.
The two women were later reunited with her husband's in the main Guest House.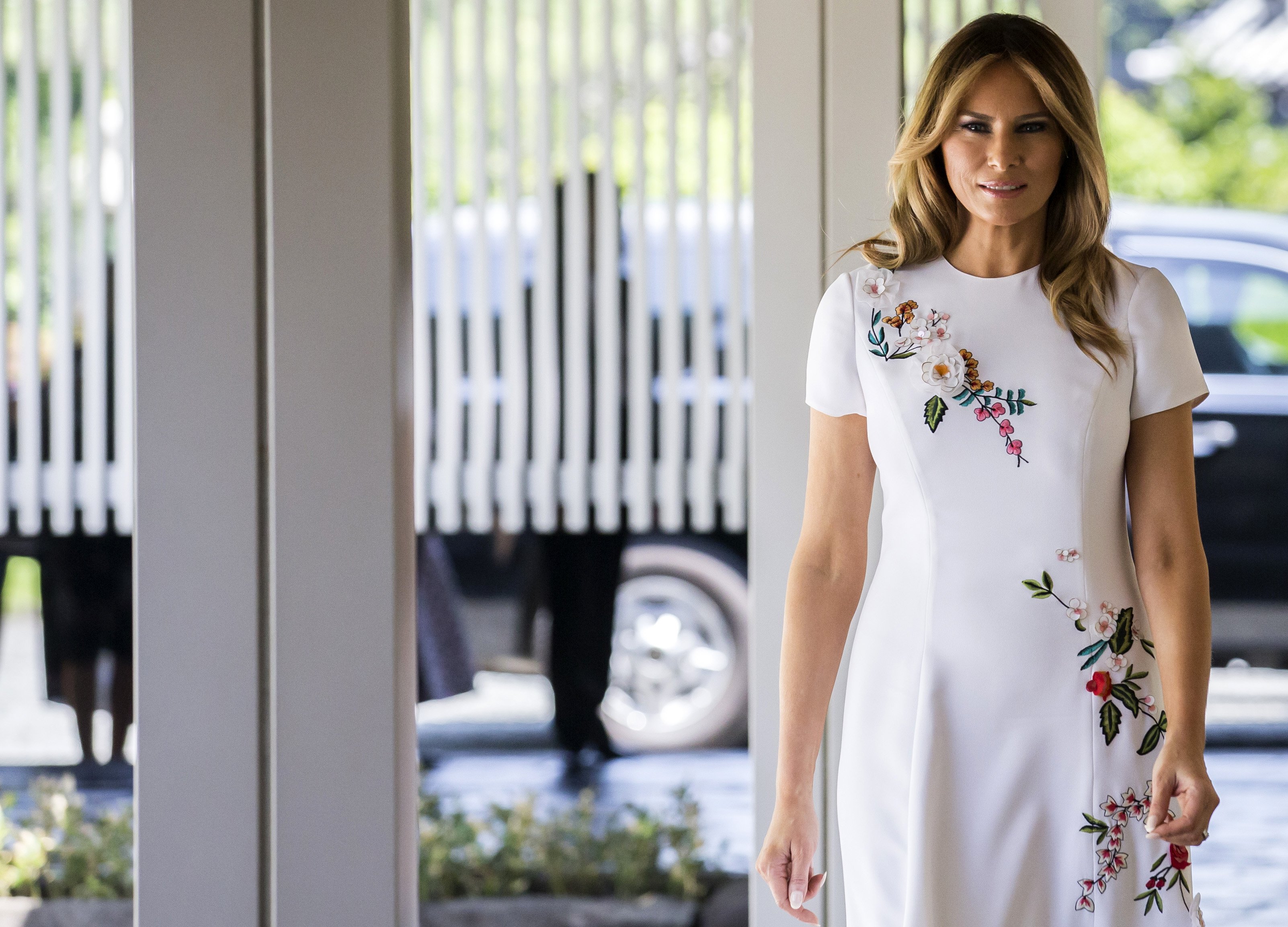 INITIAL MEETING WITH THE EMPEROR AND EMPRESS OF JAPAN
When initially meeting the Trumps, Emperor Naruhito and his wife spoke to them in English. The imperial family studied at Oxford helping them to learn the language.
However, later in a more formal setting, the emperor and his wife spoke in Japanese to the Trumps while the conversation was passed on through translators.