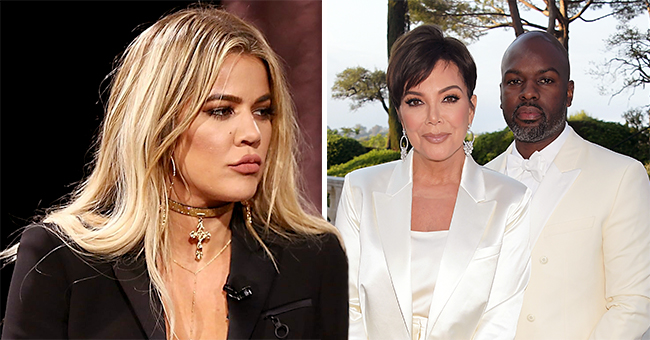 Getty images
Khloé K. Backs Kanye West after 'Rude' Texts to Kris Jenner's Boyfriend Corey Gamble
Khloé Kardashian and Kanya West have joined up to slam Kris Jenner's new boyfriend Corey Gamble.
Khloe Kardashian and Kanya West are in agreement over Kris Kardashian's 38-year-old boyfriend, Corey Gamble.
The issue exploded on a recent episode of "Keeping Up With the Kardashians" after West sent Gamble some rude texts.
"Kanye texted Corey something really rude. Kanye was like, 'I think it's weird, like, we've never met his family'...,"Kim Kardashian.
KANYA WEST IS PROTECTIVE OF KRIS JENNER
West has shown an almost fatherly concern for Kris and has been pushing for more details on who Gamble is, and where he comes from.
Gamble, who reportedly used to be a road manager with Justin Bieber's manager Scooter Braun and SB Projects, is from Atlanta and had never introduced Kris to his family.
Gamble has indicated he bears no hard feelings and is ready to be more open about himself and his past.
KHLOÉ KARDASHIAN BACKS KENYA WEST
Khloé agrees with West that their lack of knowledge about Gamble is worrisome, especially since Kris' last relationship with Caytlyn/ Bruce Jenner ended so painfully.
"After my mom got her divorce, I was like, 'Okay, this probably isn't going to last.' I just didn't feel the need to get that connected or attached. Then when I saw time progressing and the relationship was still there, we tried to get to know him, but he has not been receptive in this whole thing," Khloé revealed.
KRIS JENNER BLAMES DAUGHTERS FOR INCIDENT
Kris has stated that she feels that Khloé was disrespectful and should not have agreed with Kanya.
"You guys sit and talk s*** to Kanye. And, if you talk s*** to Kanye, he's going to put that up here and run with it," she said.
KRIS JENNER ANGERED BY DISRESPECT TO COREY GAMBLE
Khloe had been angered when she visited her mother's home in Palm Springs with her best friend Malika and found Gamble there.
They had a drink at the table and watched a documentary about the Lewinsky affair on TV.
When Gamble commented on the documentary. Khloé got up and walked out saying: "Get me out of here."
Kris was angered by Khloé's attitude and called her out on it. Khloé apologized, and promised to work harder on her relationship with Gamble,
"I'll do whatever it takes to move forward and build a better relationship," Khloe said.
Gamble has indicated he bears no hard feelings and is ready to be more open about himself and his past.
KRIS JENNER'S BOYFRIEND COREY GAMBLE
Since her divorce from Caytlin Jenner, Kris Jenner, 61, has been dating TV personality, Corey Gamble, 38.
They spend a lot of time together and seem devoted to each other. The Kardashian clan is less enthusiastic about Gamble, but Kris revealed that she's happier than ever.
Kris spent her last summer vacation in Italy with Gamble, then moved on to the South of France, and joined designer Tommy Hilfiger, his wife, and some of his friends on his luxurious yacht.
Kris Jenner is living the life, and she'd in love. What else can any woman want?
Please fill in your e-mail so we can share with you our top stories!