Melania and Donald Trump Attend Dinner at Imperial Palace in Tokyo as the Emperor's First Foreign Guests
Melania Trump continued to wow during her Japan tour by wearing a gorgeous pink gown on Monday evening for a black-tie dinner.
President Donald Trump and Melania attended a dinner at the Imperial Palace of Emperor Naruhito and Empress Masako on Monday. 
The President and the First Lady made history by becoming the first foreign guests welcomed by the emperor, who gained his position at the start of this month. Melania made headlines for her elegant ensemble. Video and photos are found below. 
Wearing a light pink gown that fell to her feet, the 49-year-old looked stunning. According to the Daily Mail, the full-coverage piece is a J. Mendel item that goes for $4,490. 
Silver feathers were dispersed over mostly the top and mid-section of the dress and glimmered in the evening light. Silver pumps perfectly suited the gown. 
Melania let her brown hair out and accessorized with a pair of studded diamond earrings. Husband Donald wore a simple black suit with a matching bow tie and a white undershirt. 
EARLIER: President Trump and Melania Trump stand in a receiving line at the Imperial Palace in Tokyo, Japan. pic.twitter.com/h5W8fKUFxO

— The Hill (@thehill) May 27, 2019
His counterpart, Emperor Naruhito, wore a similar outfit. Empress Masako also looked beautiful in a cream ensemble and lace blazer that featured sheer sleeves. 
She went with a chignon hairstyle and wore drop earrings along with a simple makeup look. The women walked side by side into the banquet, then sat on opposite ends at the table. 
The Emperor and President Trump shared some words to open, then lifted their glasses and cheered each other. Emperor Naruhito reportedly made a toast to the President in his native language.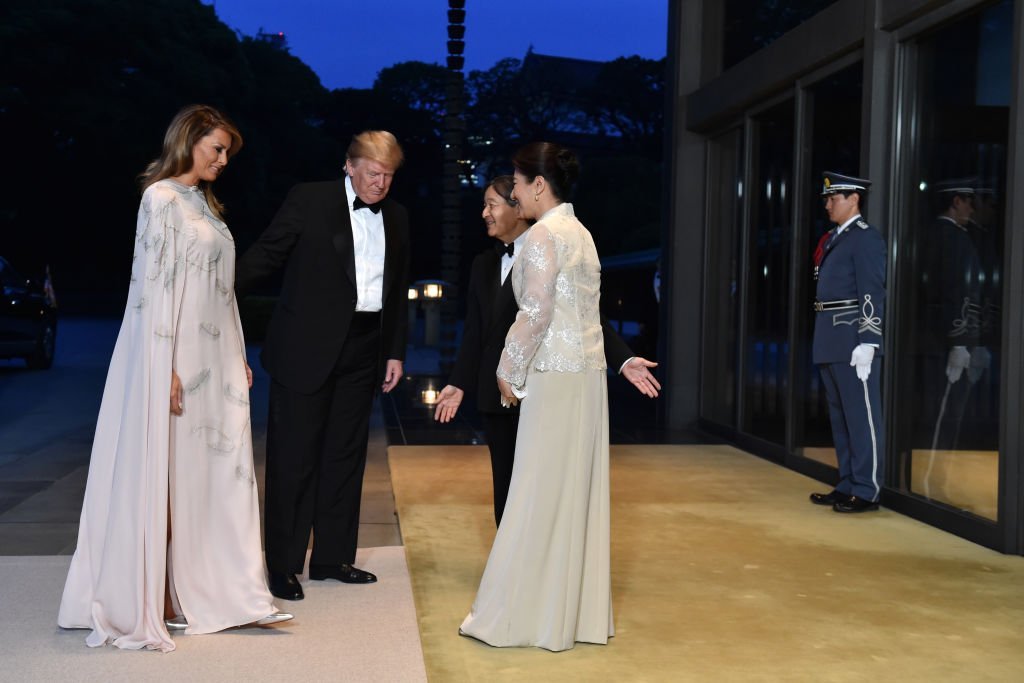 According to the Daily Mail, the world leaders and their guests enjoyed a six-course meal that ended with a serving of melon and grapes. It was a great conclusion to the black-tie dinner.
Earlier in her trip, Melania chose another light design. She wore a white short-sleeved dress that hugged her figure and came loose at her legs. She paired it with red pumps. 
The $4,290 white Caroline Herrera dress also featured flower designs at her chest and her lower midsection to the thigh. Again she wore her hair loose.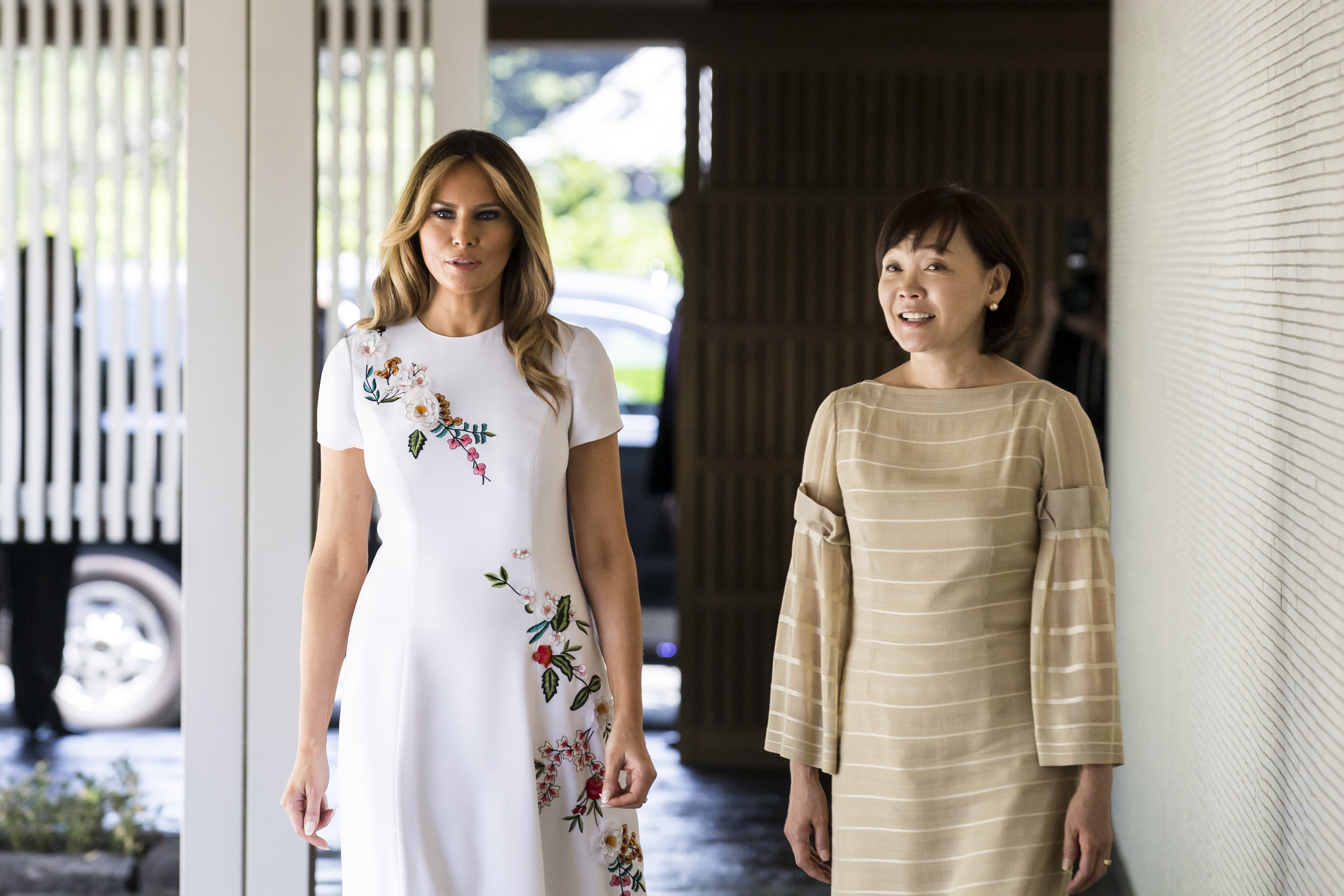 On Sunday, the First Lady was treated to a fun outing with schoolchildren who joined her at an interactive digital museum in Tokyo. Akie Abe, the Japanese Prime Minister's wife, hosted the occasion. 
The kids had fun drawing aquatic animals to be used in a digitally projected aquarium. Melania decided on a fish drawing which she dedicated to a girl named Julia. 
Abe chose to go with a pink turtle spotted with red hearts on its back. Both she and Melania wore dark blue pieces at the event. Abe wore a gold polka dot dress and Melania a jumpsuit. 
A great day exploring Tokyo with Mrs. Abe! Thank you to @teamLab_net exhibits at Mori Bldg Digital Art Museum for a wonderful interactive experience. pic.twitter.com/Kv7cLuJeG7

— Melania Trump 45 Archived (@FLOTUS45) May 26, 2019
The approximately 30 students were happy to receive autographs from the foreign first lady on their artwork. Melania included her anti-bullying label, "Be Best!" on each signature.