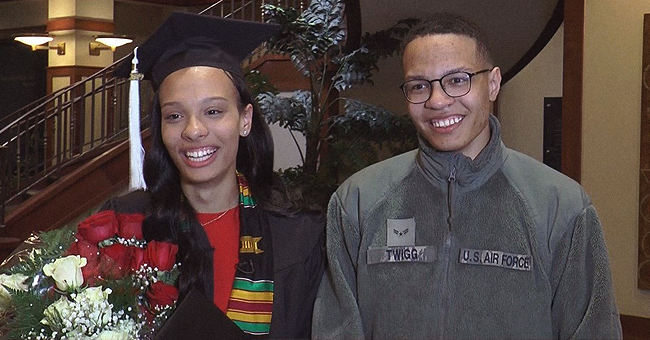 Twitter/TEGNA
Harding Graduate Cries When Airman Brother Surprises Her after 3 Years Apart
Makayla Twigg reunited with her brother after three long years of separation. A video of the heartwarming moment is fast going viral.
The clip runs for only 32 seconds, but that is enough to capture the emotional moment between the siblings. Makayla is seen standing on a platform posing for shots when Daylon, her brother, walked up to her.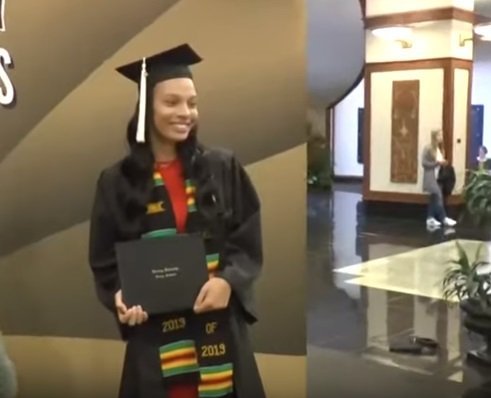 Makayla Twigg, the lady brother surprised her at graduation after not seeing him for 3 years.| Photo: YouTube/ THV11
The new graduate didn't seem to notice until he had his arms around her. She expressed great shock and squealed in delight only to have her words muffled as the hunky soldier, who still had his uniform on, hugged her.
"I wasn't expecting him at all! He called me this morning and gave me this really sentimental speech, but I was like, moving out of my dorm, so I wasn't really listening to him," a laughing MaKayla said.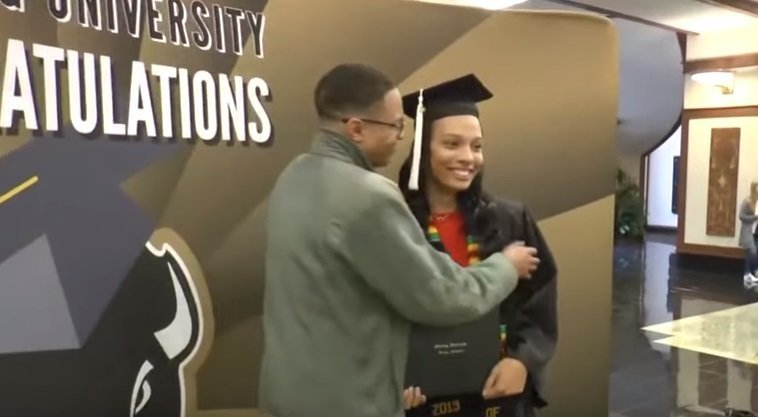 Makayla Twigg and her brother who surprised her at graduation .| Photo: YouTube/ THV11
"It was an exciting day without him here because I was graduating and then... it just got, like, a hundred times better."
It was an unexpected reunion for Makayla who had received a call from her brother earlier on expressing regret that he wouldn't make it to the ceremony because of work.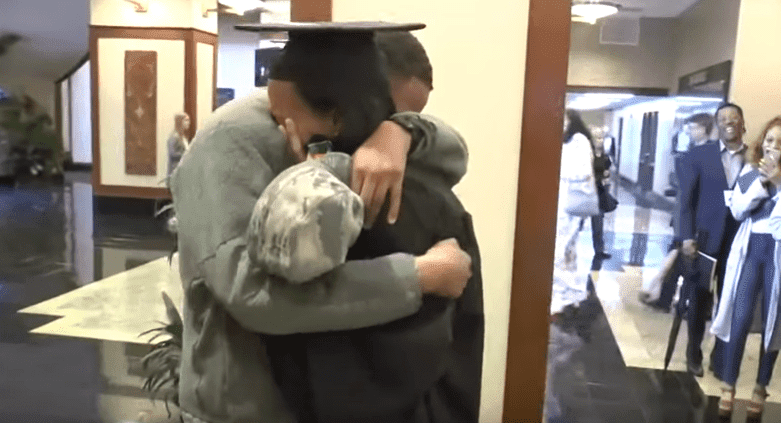 Makayla Twigg and her brother who surprised her at graduation .| Photo: YouTube/ THV11
Dayton Twigg, an Airman 1st Class, has been away from home for about two years because he was in Japan. He was just newly reassigned to the Mountain Home Air Force Base in Idaho which is much closer to home, but he still told Makayla he wouldn't be present at her graduation.
"I was like, "I'm brand new here, I'm still learning some stuff, I'm still trying to figure out what to do," she seemed like she was very understanding about it," Daylon said.
The pair made the most beautiful exchange as Makayla cheekily replied:
"I was, but I was like, not really wanting to talk to him at first."
"Yeah, she hung up the phone on me when I told her," Daylon said as the pair laughed.
Daylon went on to reveal that the surprise was supposed to be during the ceremony and not after but that it went down the drain because of unfortunate events like "flight delays and everything."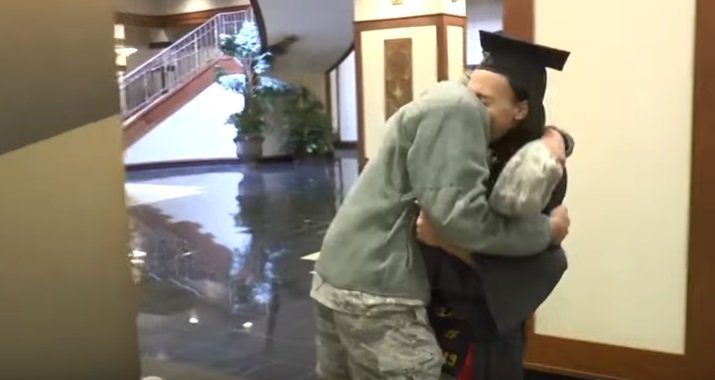 Makayla Twigg and her brother who surprised her at graduation .| Photo: YouTube/ THV11
The close-knit pair exuded great happiness and Makayla, with Daylon watching on, shared that they have a lot of catching up to do and that she feels like she doesn't "know him any more" because they have been apart for a very long time.
Makayla will get to spend some time with her big brother beore his return to the Air Force Base.
Please fill in your e-mail so we can share with you our top stories!