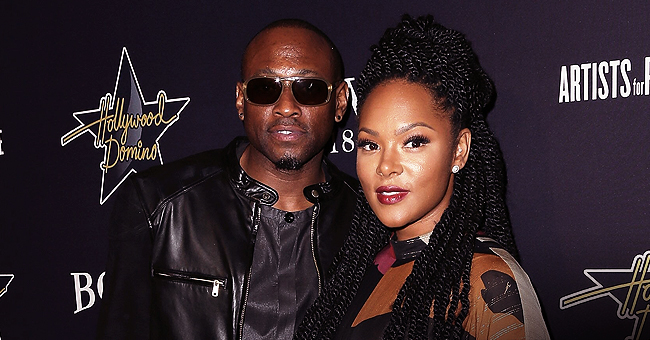 GettyImages
Omar Epps Pens an Emotional Tribute to Wife Keisha on Her Birthday
Omar Epps can't stop gushing about his lovely wife on her birthday, and he took to Instagram to share his most honest wishes for her on such a special occasion.
Omar Epps is still genuinely in love with his wife of 13 years, Keisha Epps, a former member of the girl group Total, and as she celebrated another year of life, the star made sure to commemorate the occasion with a heartwarming message he shared on Instagram, alongside a childhood pic of his wife.
A THROWBACK PICTURE
In the shot, a young Keisha is rocking glasses, a white shirt and a black vest, probably her school uniform, as she smiled to the camera with an innocent expression in her face.
"Happy birthday to the love of my life, my soulmate @lovekeishaepps! I'm so thankful to God we not only connected, but reconnected in this lifetime, and brought our children into the world. You are forever, my ANGEL!" Omar started his caption.
He continued by stating that Keisha deserves nothing but happiness and prosperity, and assured her the universe's got her back on that.
He added:
"I salute you, celebrate you, and adore you with every fiber of my spirit! You are an amazing mother, an incredible friend, and an impeccable wife. I'm so proud to share this journey we call life with you. Ups and downs, lefts and rights, it doesn't matter, I've got your back eternally baby!"
Epps ended his posts by praising Keisha's spirit, and adding that God's work on her new year of life will be "undeniable."
FANS' REACTIONS
Fans of the couple were quick to fill the comment section gushing about their beautiful connection and love for each other.
"Wow!! Spoken with true Godly love and energy! Happy birthday to your soulmate indeed!" wrote one user.
Another added, "Wow! You said it all. She's 1 lucky lady."
And a third one agreed, "Love Y'all Union, Happy Birthday and May you be blessed with many many more."
MORE HEART MELTING WORDS FROM OMAR
This is not the first time that Omar shows off he has a way with words when it comes to Keisha.
In February, the couple celebrated their "lucky 13" wedding anniversary, and Epps didn't disappoint with his message.
He referred to Keisha as "my anchor, my angel, my beautiful wife," and kept going by thanking her "for all that you are, all that you give, and all that you stand for."
Omar and Keisha's romance first blossomed in 1992, when they dated briefly. But because of their careers, things didn't work out at the time.
However, Omar always thought of Keisha as "the one who got away," and luckily they reconnected 14 years later and ended up tying the knot in 2006.
The actor couldn't be more on point when he wrote about riding through life's twists and turns with Keisha like "look, no hands" in his caption. He adds,
"Words can't really describe that feeling of US. It's been a wonderfully fulfilling journey, and I pray that we continue together fearlessly, and unapologetically. I salute you, I stand by you, and I LOVE you endlessly!"
THE SECRET TO A LONGLASTING MARRIAGE
Omar and Keisha share two kids: 14-year-old K'mari, and 11-year-old Amir. Epps is also the father of 19-year-old Aiyanna, his daughter from a previous relationship.
Talking to Angie Martinez last year, Epps revealed that the secret for his and Keisha's successful marriage was taking the possibility of breaking up off the table.
"It just changes the way you function in a relationship. Because when you get to the turbulent parts, it changes how you deal with one another," he explained.
And continued:
"A lot of situations that might have been an argument are a conversation. You're hearing one another out. You're trying to understand where you're coming from. 'Oh ok, I get it.' And then you just keep pushing."
Happy belated birthday, Keisha!
Please fill in your e-mail so we can share with you our top stories!