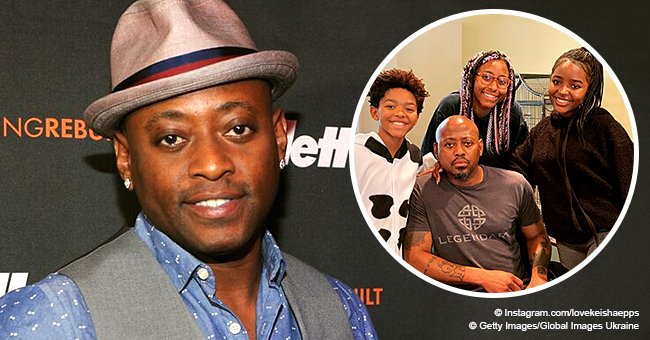 Omar Epps' wife shares rare picture of the actor together with his 3 children
Keisha Epps rings in the New Year with a photo that epitomizes the blissful life she shares with her husband Omar Epps.
Keisha Spivey Epps took a moment to pay tribute to her family before 2018 came to a close. In an Instagram post, she shared a photo of her her husband of 12 years, Omar Epps and their three children.
"My everythings" was the caption the former Total singer wrote to accompany the pic which embodies everything she can ever be proud of. Flanked by their children is Omar, the man she met close to 27 years ago, reconnected with 15 years later and married in 2006. Together they share two children, K'Mari, 14, and Amir, 11, along with Omar's daughter from a previous relationship, Aiyanna, 19.
A MARRIAGE THAT WORKS
Omar and Keisha are slowly becoming the poster couple for black love with a marriage that has lasted more than a decade and a love story that spanned more than two. The secret, according to Omar is the mindset that breaking up was not an option for them. He said,
"For us, we just took breaking up off the table. That changed the whole dynamic of how we argue, solve problems, everything. It changes everything during the tough times."
Omar also confessed he still harbored special feelings for his wife even after all these years.
"You can love someone but not like them. I still like her. I still have that cute and innocent type of love for her."
KEISHA PAYS TRIBUTE TO OMAR
Last year, Keisha reciprocated that love when she penned a special message for her husband on their 12thanniversary. She recalled their love story and affirmed her intent to spend forever with Omar.
"We connected at first sight 26 years ago. Reconnected almost 15 1/2 years ago and 12 years ago today, we took our vows to LOVE one another forever. I still want forever with you baby. You have given me many of my GREATEST joys. Thank you babe."
She added that despite their "handful of downs," she still chooses Omar "over and over and over again."
OMAR ON KEISHA
Likewise, Omar paid tribute to Keisha in May on her birthday. "You are an incredible woman, mother and wife!" he wrote to accompany a lovely photo of his wife.
THEIR LOVE STORY
The couple first began dating in 1992 but because they were still starting out with their careers at the time, their relationship didn't last. Omar dated other people after and had Aiyanna whose mother is rumored to be his "Love and Basketball" co-star and once girlfriend Sanaa Latham. The rumor was never confirmed.
Meanwhile, Omar apparently hadn't gotten over Keisha and began dating her again by 2004. Two years later, they tied the knot in a beautiful private ceremony surrounded by friends and family.
This love story isn't over but we're certain it will only blossom into a lifetime of bliss. Indeed, Keisha has every reason to be grateful for the life she and Omar have made for themselves.
Please fill in your e-mail so we can share with you our top stories!