Meghan Markle's Lookalike Is Found in Spain, and She Has Just Given Birth Too
There is yet another Meghan Markle lookalike and, asides the startling resemblances, she birthed her youngest child at about the same time as Meghan's! 
The Spanish woman, whose name is Begona Villacis, is reportedly a politician and was recently spotted casting a vote in Madrid. Fellow voters were quick to notice the striking resemblance between her and the Duchess.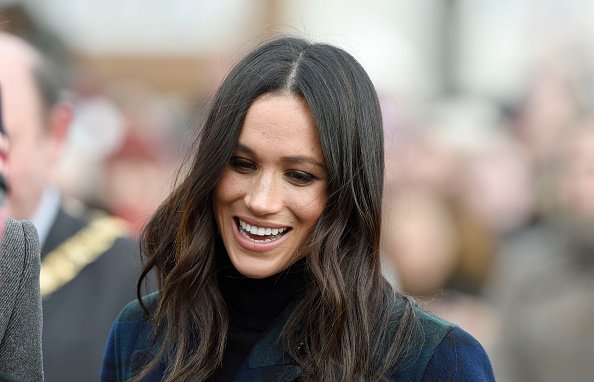 Villacis, who is vying to become mayor of Madrid, took to Instagram to share photos of herself at the election in a bid to encourage others to do the same. The images are fast going viral because the exotic beauty wore an ensemble much like Meghan Markle is known to favor.
Villacis, who is seen pushing her baby's pram, donned a white trench coat that looks a lot like Markle's most recent outfit when she made her first public appearance following the birth of Archie.
Villacis made the perfect picture giving a polite smile, also much like Meghan's, even as a crowd gathered around to take a peek at her newborn baby.
Villacis does, unarguably, has a lot in common with the former actress but her efforts going all the way out to even dress like her almost seems overwhelming! She is aware of how much she looks like Markle and even once attested to this on social media.
She said.
"People always stopped me in the street to ask me if I am Meghan. It can be very funny sometimes. My daughters tease me about it a lot,"
It also isn't the first time she will be wearing an ensemble like Markle's. Since the media discovered Villacis, many of such photos of her wearing outfits like Meghan's have surfaced and has elicited different reactions from netizens. While some are just awestruck by the similarities, a few find her a bit obnoxious.
Every royal fan already knows about actresses Parisa Fitz-Henley and Tiffany Smith who raised commotion on the internet for looking so much like Meghan.
They are however a lot different from Villacis in that, asides portraying the Duchess of Sussex in Lifetime Movies, they have done nothing to exaggerate their resemblance to Meghan.
Smith, while speaking to "Vanity Fair," revealed that taking on the role of Markle in "Harry and Meghan: Becoming Royal," alone was quite nerve-wracking. That makes you wonder just how hard it must be for Villacis to keep up too.