Joy-Anna Duggar Slammed for 'Outshining' Her BFF Carlin Bates on Her Wedding Day
The reality star posted an adorable group photo from her best friend's wedding and found herself at the end of a surprising backlash from fans.
Joy-Anna Duggar took to Instagram to share a wedding day snapshot, which sees her and husband Austin Forsyth accompanying the bride and the bridegroom, Carlin Bates and Evan Stewart.
Uploaded via Duggar and Forsyth's joint social media account, the image was captioned, "Congratulations to my Best Friend, Carlin and her husband, Evan! [Your] wedding was [so] gorgeous!"
Posing alongside the delighted couple, Duggar looked full of smiles in the photo as she flaunted a classy, cream-colored gown.
However, it was her baby bump, clearly visible in the photograph, that was most adorable of all.
FANS WERE NOT PLEASED WITH DUGGAR'S BABY BUMP
In fact, several fans of the star were displeased with Duggar for this particular reason. They claimed that Duggar was trying to "outshine" her best friend on her wedding day.

Instagram user "amygonzalez74" took to the comments section to complain, "Should you really try to outshine the bride by showing your baby bump?"
Agreeing to the claim, another user added, "I agree. Not sure why the emphasis on the bump… she didn't have to do that."

Many fans expressed their displeasure at the fact that Duggar touched her belly too much, drawing the entire attention to her baby bump.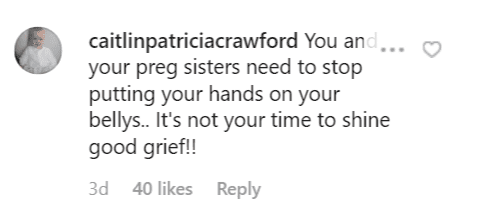 However, it was not all comments of hate heading toward Duggar. Few of the fans also lent their support to the reality star.One Instagram user commented, "Why do people have such a problem with a pregnant person touching their stomach? Everyone was hating on Meghan Markle and now Joy."

Meanwhile, the bride herself showed no issues with Duggar's body language as she took to the comments section to drop a reply of gratitude.
"Aww… Thank you for all you did in making our day perfect! Couldn't have done it without [you]!" Bates wrote.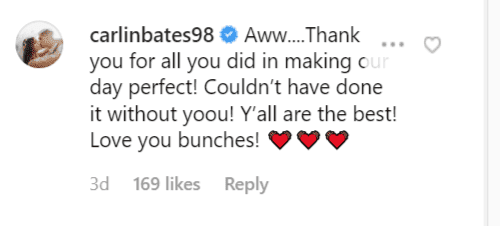 Earlier this month, the proud parents revealed in an interview that they are expecting their second child, and added that they were excited to see what "special dynamic he or she brings" to the family.
The due date for their baby is reported to be for November 2019. They are currently proud parents to 1-year-old Gideon Martyn.