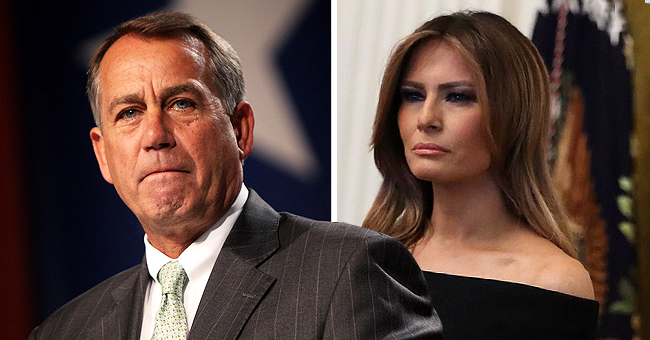 Flickr // Getty Images
John Boehner's Speculation on Why Melania Trump 'Doesn't Look Real Happy Every Day'
John Boehner, who served as the 53rd speaker of the United States House of Representatives from 2011 to 2015, shared his thoughts on why Melania Trump doesn't look happy.
After he left office in 2015, some of the political aspects that characterized him became different. One of the main things that changed was his views on the legalization of marijuana.
While still being a member of Congress, he pointed out to be "unalterably opposed to the legalization" of the drug. However, he was later on the board of a cannabis investment firm.
HIS THOUGHTS ON MELANIA'S UNHAPPINESS
In May 2018, John was speaking in Michigan while drinking a fruity cocktail, and he shared his theory on why FLOTUS Melania Trump usually looks unhappy when she is photographed or recorded next to Donald Trump.
"I think Donald Trump promised Melania that he would not win. She didn't have to worry about ever living in the White House. It's probably why she doesn't look real happy every day. Well, maybe one reason," John said in front of a laughing audience.
Even though he might be joking, POTUS' confidante Roger Stone told Vanity Fair that Melania didn't consider the campaign as "her thing." An unnamed family friend reportedly said that Melania didn't want the presidency "come hell or high water" and that she didn't think Donald would be elected president.
IMAGES SPEAK LOUDER THAN WORDS
While it is hard to determine whether Melania is unhappy for being in the White House or not, a few videos and photos add fuel to the fire. On April 26, 2019, the official Twitter account of the White House shared a photo wishing Melania a happy birthday.
In the pic, several photographers surrounded her. However, the most shocking aspect of the image was the awkward look in her face.
The pic was photoshopped to create several memes and, although she was with a large number of people in the room, some Twitter users pointed out that she looked "all alone."
One Twitter user wrote: "I don't understand why the White House would post such a sad, lonely photo of Melania for her birthday." Another person admitted that "regardless what I think of her and her family, this is just weird."
At the moment, Melania is working on the Be Best campaign, which focuses on well-being for young people and preventing cyberbullying and drug use.
Please fill in your e-mail so we can share with you our top stories!