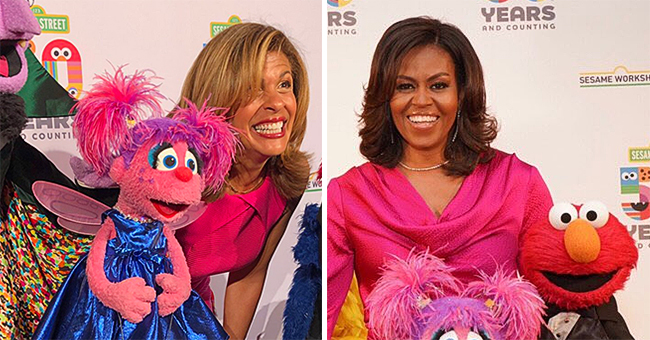 twitter.com/hodakotb / twitter.com/MichelleObama
Michelle Obama and Hoda Kotb Are Twinning in Pink Dresses for Sesame Street's 50th Anniversary
The Sesame Street Anniversary benefit gala was celebrated for the 50th time in New York City, and among its many star guests, two of America's most beloved women stole the show by playing twins.
The annual charity event took place at the end of May, and for the milestone anniversary, a dozen high profile personalities were in attendance, including singer John Legend and model Chrissy Teigen.
55-year-old broadcaster Hoda Kotb was the host for the night, while 54-year-old former first lady Michelle Obama was one of the most prominent speakers at the gala, and the two had a twin moment by wearing very similar pink outfits.
TWING DRESSES
The "Today" enjoyed this so much that she took to her Twitter to share several pictures of Obama and her in their pink dresses as they met and posed together for the cameras.
Both women also took their time to pose with some of "Sesame Street" most iconic characters, sharing their respective snapshots in their social media.
"Happy 50th @sesamestreet ! What a night!!!" the ever-smiling Kotb captioned an Instagram slideshow that marked the occasion.
MICHELLE OBAMA'S WORDS
True to her status as former first lady of the nation, Obama wrote a long and heartfelt caption to her post about the event, recognizing the value of "Sesame Street" and the meaning the show has had for her thorough her life.
"I could not be more honored to help celebrate 50 years of @SesameStreet tonight. It's a program that's been a part of my life as a child, as a mother, as First Lady—and thankfully, still today," the mother-of-two shared.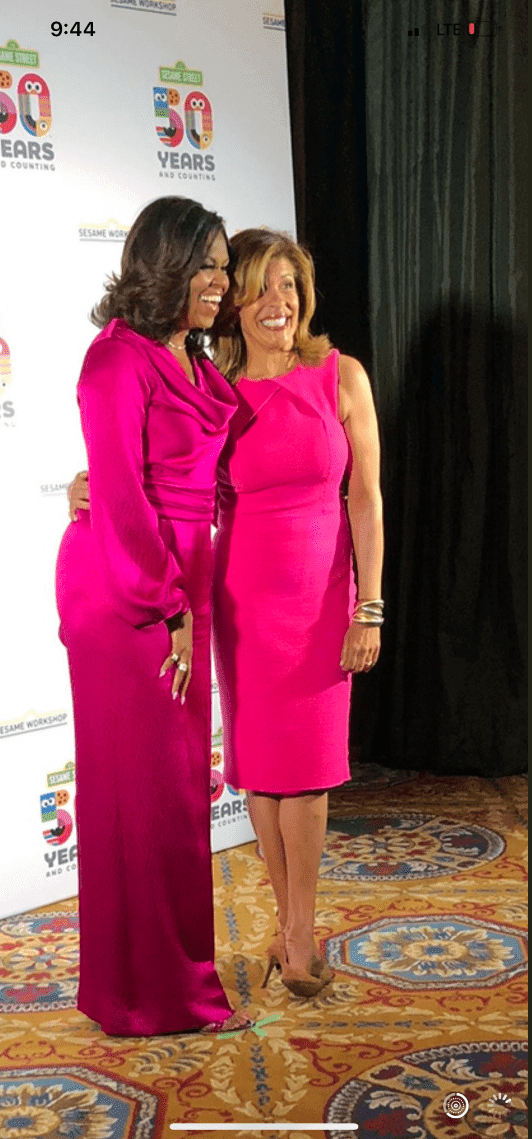 Michelle Obama and Hoda Kotb. I Image: Twitter/@hodakotb
Obama also recalled the first time she visited the show's set with her two daughters, and she pointed out that even as an adult there is something magical about it all.
"There is something unexplainable that happens there, some unique alchemy that bubbles up that you just can't find anywhere else," Obama went on.
"There's nothing in the world that so beautifully marries boundless aspiration with simple goodness, nothing that strips away the daily madness and distraction, nothing that is so pure and hopeful—and absolutely essential to our future," she added.
Obama added throwback images of her daughters Malia and Sasha nine years ago, having fun with some of the "Sesame Streets" characters such as Big Bird and Oscar the Grouch.
Obama also gave a great speech at the dinner gala, proving that she is a great speaker and a multifaceted woman who can go from silly and playful to serious and relevant.
"It feels a little backward for me to be receiving this award… I feel like I should be giving you something—because for my entire life, you all have given me so much," she said.
She also praised the show for portraying America's diversity and for giving her and millions other children the chance to feel represented on TV.
"At the time, before white flight set in, my neighborhood was a wonderful mix of races, ethnicities, and income levels. So whenever I'd catch a glimpse of that funky, diverse street with a stoop and a grocery store… what I saw felt familiar," Obama said.
"And there were all sorts of kids, some who looked like me, and some who didn't—a wonderful group of friends where it didn't matter if you were black or white or fuzzy and living in a trash can," she added.
HODA KOTB ON RECENTLY BECOMING A MOTHER
Media people couldn't resist asking Kobt about her two daughters, 2-year-old Haley Joy and months-old Hope Catherine, and she was happy to gush about how lucky she is to have them in her life.
"Yesterday, I was holding Hope, and Haley was bouncing around, and I thought to myself, 'This house is overflowing. I don't know that I could have imagined having this feeling at this point in my life. I feel like I finally have a North Star," she said.
Kotb, who adopted Haley Joy at 53, also reflected on the experience of becoming a mother later than expected.
"Some people are lucky enough to have their time in their 20s. Some people, for whatever reason, need to wait a little longer. But waiting ain't bad when this is at the end," she gratefully said.
Please fill in your e-mail so we can share with you our top stories!