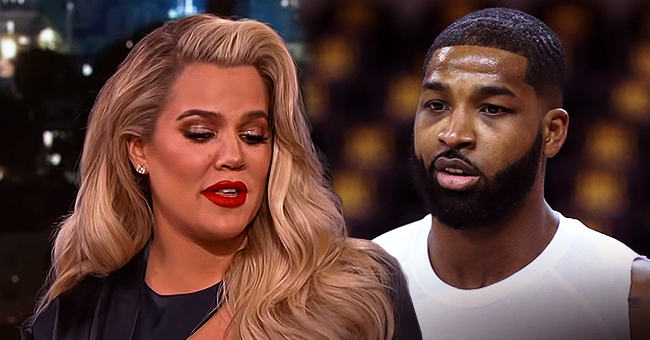 Youtube/Jimmy Kimmel Live Getty images
Khloé Kardashian Talks How Tristan Thompson 'Demolished' Their Relationship on 'KUWTK'
Khloé Kardashian revealed that Tristan Thompson's cheating just two days before she gave birth to their daughter ruined their relationship.
Over a year after the occurrence, Khloé Kardashian is opening up for the first time about her partner Tristan Thompson's infidelity at the time of her daughter's birth.
Khloé stunned audiences of the June 2, 2019 episode of "Keeping Up WIth the Kardashians" with an unexpected revelation.
TRISTAN THOMPSON CAUGHT IN THE ACT
On April 10, 2018, two days before Khloé, 34, would give birth to their daughter, True. a video showing Thompson kissing another woman was released.
The basketball player was caught on video with an unidentified woman in a New York City lounge, and footage from October 2017 which depicting him kissing one woman while a different woman groped him was revealed by TMZ.
Khloé revealed that she appreciated Thompson's effort at going to therapy to deal with his issues
PATCHING THINGS UP AFTER THE SCANDAL
In the aftermath of True's birth, which Khloé allowed Thompson to attend, the couple patched things up, and the new mother flew to Cleveland with her child to visit him regularly.
KHLOÉ KARDASHIAN: "I STILL LOVE HIM"
At that time, Khloé would end up confessing to best friend Malika Haqq that she was still in love with Thompson.
"I am in love. I know I love him. But still, I'm not going to act like nothing's wrong," she said.
KHLOÉ KARDASHIAN SPOKE ABOUT LOSS OF TRUST
For Khloé, the hardest to overcome was the loss of trust, always wondering if he was lying to her, what he'd be doing when he wasn't with her.l
"I'm someone where the energy I have towards True, that's all that matters to me. If that starts to be affected by me wondering, 'What's Tristan doing? Where is he?' — I will be out in two f—ing seconds. Nothing is worth that for me," she said.
Khloé revealed that she appreciated Thompson's effort at going to therapy to deal with his issues, and she was making an effort to rebuild their relationship.
Sadly, a few weeks later, yet another scandal involving Thompson and another woman broke and destroyed what was left of their relationship.
TRISTAN THOMPSON CAUGHT CHEATING AGAIN
In February 2019 gossips gorged on the juiciest Kardashian scandal yet: Tristan Thompson was seen hooking up at a Valentine's Day afterparty with Kylie Jenner's best friend, Jordyn Woods.
The fragile trust that the couple had been rebuilding was shattered, and Khloé Kardashian was devastated by the double betrayal.
Woods had been a close personal friend in whom she'd often confided during the first cheating scandal. Sadly the old adage proved true: Once a cheater, always a cheater,
Please fill in your e-mail so we can share with you our top stories!