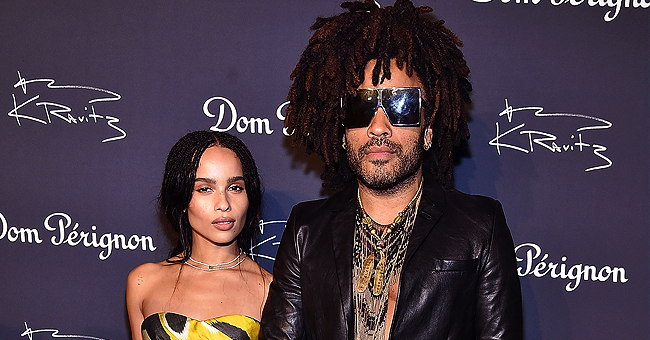 Getty images
Zoë Kravitz Talks about Decade-Long Eating Disorder That Started at 13
Zoë Kravitz opened up about her struggle with eating disorders since she was 13.
Zoë Kravitz is living a living her best life. The actress is about to marry the love of her life, is starring in a star-studded hit TV series and gracing the cover of the July 2019 issued of Vogue.
t's hard to believe that the stunning, confident actress ever suffered from a life-threatening eating disorder.
GROWING UP WITH A FAMOUS FATHER
Kravitz admits that as a teen she was insecure and felt out of her element in a predominantly white private school.
The insecurity translated into an obsession with her weight and led to a decade's long struggle with anorexia.
"I think it came from a lot of things. My mother was so beautiful and so tiny, I always felt clunky around her, and then my dad was always surrounded by supermodels… I was short, and you feel uncomfortable in your skin anyway at that age," she said.
Kravitz has followed in her mother and her father's footsteps and is a successful model, singer, and actress.
ZOE KRAVITZ WEDDING SET FOR JULY
Kravitz is less than a month away from her wedding to actor Karl Glusman, with whom she has been in a relationship for the last 3 years.
"My friend knew that I wanted to meet someone – not even to get serious, I think just to get laid, to be completely honest with you – and he brought Karl. I instantly felt something – then he turned around and started talking to the blonde girl next to him and I was like, 'Wait, what?'. But he later told me that he was just nervous," she revealed.
LIVING WITH A LEGENDARY NAME
Kravitz revealed that for years her insecurity was fueled by not knowing if she got the parts because of her talent, or because of her surname. Now, working alongside Nicole Kidman, Reese Witherspoon and Shailene Woodley in HBO's s "Big Little Lies" Kravitz radiates new confidence.
ZOE KRAVITZ - A STAR IN HER OWN RIGHT
At 30, Kravitz has more than paid her dues and made her mark in a highly competitive industry on her own merits.
"When I got into acting school, I never knew if it was because of my audition or my last name. But I'm slowly learning that no director will hire me because of my surname. The first 10 years of my career have been about proving myself. I now finally feel like I'm in a place where I'm able to say, 'I deserve this,' and, "I worked really hard.' I'm getting better," she said.
And to judge from the stunning photos released by Vogue, any health issues or lack of confidence in her body are also far behind her. Kravitz is a star.
ALL ABOUT ZOE KRAVITZ
Zoë Kravitz inherited her beauty and acting talent from 'The Cosby Show' actress Lisa Bonet, and her musicality from rocker Lenny Kravitz.
Kravitz has followed in her mother and her father's footsteps and is a successful model, singer, and actress.
Kravitz is a very vocal advocate of the Time's Up movement, which was launched by Hollywood celebrities as a response to the Weinstein scandal and the #MeToo movement to provide victims with legal recourse against sexual harassment.
Kravitz's mother is now remarried to Aquaman actor, Jason Momoa, and she is the member of a happy blended family.
Please fill in your e-mail so we can share with you our top stories!