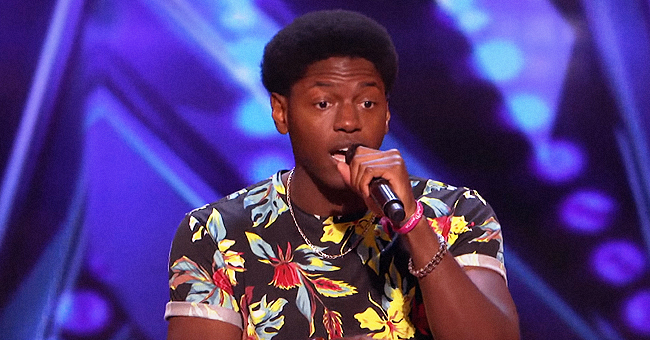 Youtube/America's Got Talent
'AGT' Singer Blows Judges, Audience Away with Original Song & Earns Golden Buzzer
"America's Got Talent" judge Howie Mandel pushed his Golden Buzzer for a young singer/songwriter.
"America's Got Talent" has revealed many incredible talents to the world, but few are deemed deserving of a Golden Buzzer.
21-year-old Joseph Allen has joined that exclusive group of performers honored with a Golden Buzzer, and Howie Mandel was the judge who made his dream come true.
"The most gratifying experiences are always my golden buzzer moments because my golden buzzer moments are the most in the moment, emotional and heartfelt." Howie Mandel
GETTING THE GOLDEN BUZZER
The Golden Buzzer is every contestant's dream come true, sending them straight to the live shows.
Each judge can use the Buzzer only once each season, and Mandel picked the Texas singer-songwriter as deserving of his Golden approval.
The other judges were equally impressed by Allan's talent, with Julianne Hough fighting back tears
JOSEPH ALLEN - AN ORIGINAL ARTIST
Unlike most singers on "AGT" who perform songs made famous by major artists, Allen took a huge risk and sang a ballad-rap fusion he composed himself for the occasion and conquered the audience immediately.
"From the moment you walked out, your smile is electric. You walked out with such exuberance, and that's what life is," Mandel said.
JOSEPH ALLEN'S AMBITION IS TO MAKE A DIFFERENCE
Asked about his hopes for the future, the young man explained:
"I see myself as someone who can make a major impact in the world and I just want to see how much of a footprint I can leave on Earth before I leave."
As he finished his performance, Allan fell to his knees in tears.
HOWIE MANDEL'S UNCONVENTIONAL GOLDEN BUZZER
In a reference to Allan's stated ambition to "leave a footprint", Mandel lept up onto the judge's table and stomped on the Buzzer.
"You said you want to leave a footprint, well I'm going to give you the footprint you need," he said.
The other judges were equally impressed by Allan's talent, with Julianne Hough fighting back tears, and Gabrielle Union expressing her admiration for the young Texan's talent.
The usually taciturn Simon Cowell smiled broadly as he exclaimed:
"That was an amazing audition. I loved it."
We look forward to the next round of "AGT" and to seeing a lot more of the amazingly talented and charismatic Joseph Allen.
SIMON COWELL'S SEASON 13 GOLDEN BUZZER
Simon Cowell is known to be the most difficult of the "America's Got Talent" judges to sway, but he met his match in Michael Ketterer.
The father-of-six stunned the audience and the judges with an emotional rendition of the BeeGee's "To Love Somebody."
As Ketterer reached the end of the song, the audience surged to its feet applauding, and Cowell sat speechlessly.
Without a single word, Cowell got up and slammed the Golden Buzzer which sent Ketterer into the next round. Ketterer would eventually be placed fifth on the "AGT" finals, which were won by close-up magician Shin Lim.
Please fill in your e-mail so we can share with you our top stories!