Princess Eugenie Shares New Photos with Her Parents and Sister
Princess Eugenie uploaded on social media, pictures of the Duke and Duchess of York with their daughters as she celebrated and applauded her daddy with a heartfelt caption! 
Not long ago, the Instagram page of the young Princess Eugenie reflected the admiration she possesses for her family, as she shared a series of images of the day's event.
The upload was a picture of her dad, Prince Andrew, on a horse as he was in charge of a parade, then of the whole pack; her mother, Sarah Ferguson standing next to her Papa, then her older sister Princess Beatrice, standing at the extreme left, while she stood close to her mama!
The beautiful photos had few words to go with it. And it read:
"Today, the Yorks were really proud of Papa @hrhthedukeofyork as Colonel of the @grenadier.guards. He reviewed the parade and took the salute at the Colonel's review. The Grenadier Guards will troop their color next week in front of their colonel-in-chief, Her Majesty The Queen."
Many Instagram users adored the pictures and firmly established that they would want to see her parents get back together. 
It seems like there are peculiar similarities between the Sussex' crown and the York's.  Apart from the regular show off of family time on social media, both families have a pair who seemingly appears in nearly every function.
Prince Harry and Meghan Markle are to the Sussex, Prince Andrew, and his 1980s sweetheart, Sarah are to the Yorks! Little wonder why the public wants the separated couples back together.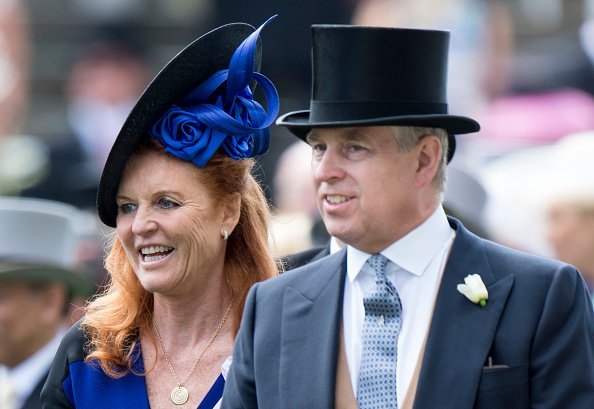 Before their divorce in 1996, the duo looked like a match made in heaven. They exchanged vows in 1896 and started experiencing intolerance from each other around 1991, as the Prince was often away, leaving his young wife and children all by themselves.
News of the pair each having an affair led to their separation. That did not drive a wedge in their relationship, as they seem to cherish their kids and have a close friendship. They support one another either by showing up at events together or by family hangouts! 
In an interview with "Hello Magazine," Sarah referred to her ex-husband as "my handsome prince." While recently, she uploaded a picture signifying how proud she is of Prince Andrew at his parade!
Each family member has a keen respect for a healthy relationship, and with the current post of their daughter, fans are hoping the next update from the Royals will be news of a REUNION of the two hearts!