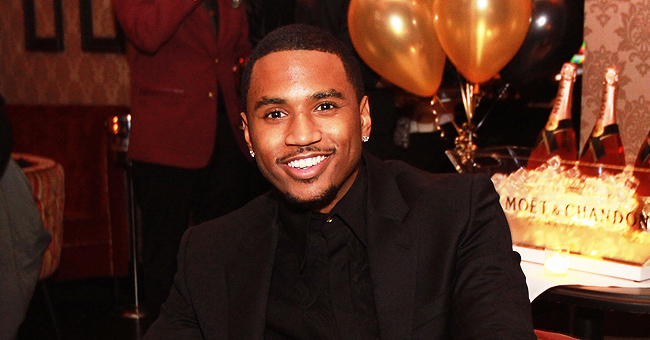 GettyImages
Trey Songz Shares FaceTime Live Photo of His Adorable Son Noah
Trey Songz is basking in the joy of fatherhood, and he can't stop gushing about his newborn baby boy, Noah. The singer recently took to Instagram to share an adorable screenshot of him face timing the bundle of joy.
No one saw it coming when Trey Songz announced last month he had become a father. And a proud and happy one at that.
The 34-year-old surprised fans with the news of his baby's arrival on May 16. First, he teased his followers with a pic of his hand holding a baby foot, and when speculation started to go rampant about whether or not he was implying that was his baby, Trey shared a full baby pic of the little one.
"My son Noah. We are blessed and overjoyed. Peace," he captioned the adorable shot.
HAPPY BABY, HAPPY DAD
On Sunday, Songz delighted fans with another glimpse at his baby boy, sharing a screenshot of a FaceTime call he did with Noah while he was away for work.
In the screenshot, Songz can't hide his big smile while watching his son, who looks adorable laying down and wearing a white onesie with stars on it.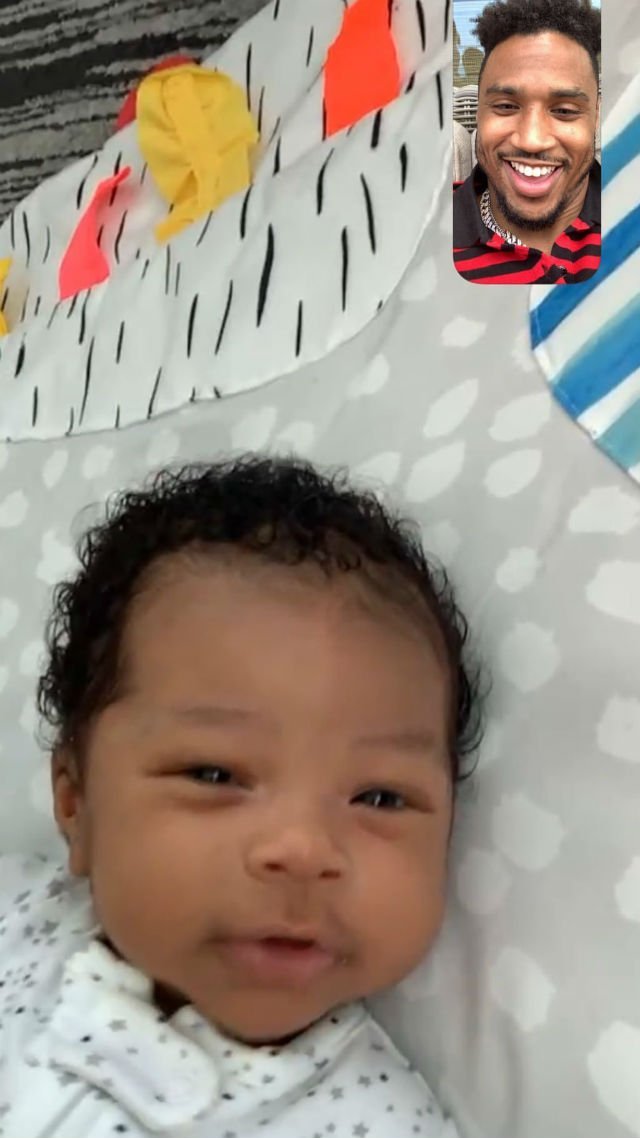 Trey FaceTiming with baby Noah. | Source: Instagram/treysongz
"I want kids, I want a family all of that... I just want to make sure that it's the right decision."
Before sharing the pic, the "Slow motion" singer wrote on Twitter "I miss you," adding a blue heart emoji to imply he was talking about his son.
THE BABY MAMA MISTERY
Although fans and friends have come forward to congratulate Trey on this new era in his life, most people are still curious about the identity of Noah's mom, as Songz hasn't revealed it and she has stayed off the radar for now.
Just a few months before welcoming the boy, Songz was dating Lori Harvey, the daughter of seasoned TV host Steve Harvey.
They split around February, and he hasn't been linked to any other woman since then. Still, it's clear Noah's mom was already pregnant while Trey and Lori were an item.
FULFILLING A DREAM
Although the baby news came as a shock to many, Trey has always wanted to be a father, and he hasn't been shy to admit it.
"I want kids. I've been wanting children before you could even imagine," he said during a 2015 appearance on "The Breakfast Club," according to PEOPLE.
"I raised all the kids in my family. My younger brother, he's 20-years-old, he just had his first child. I remember when he was a child. I used to burp him, change his diapers, now he got a baby."
When co-host Charlamagne Tha God suggested to "take the condom off," Songz disagreed, stating that having a kid was a bit more complicated than that.
"No, but I want kids, I want a family all of that," he said. And added:
"But I'm not in a rush to do it because people think that's what should be happening in my life or that I need kids or my momma been begging me for a grandbaby or any of that, I just want to make sure that it's the right decision."
Now that he finally fulfilled his dream of becoming a dad, it's clear that Trey is enjoying the joy that little Noah brought to his life.
Please fill in your e-mail so we can share with you our top stories!