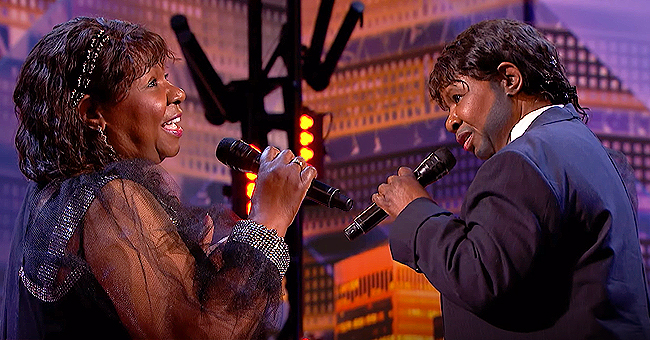 Youtube/America's Got Talent
Watch Adaline Bates' Memorable One-Woman Duet of 'Unforgettable' on AGT
"America's Got Talent" judges went in for a treat when Milwaukee-born singer Adaline Bates took the stage to offer them a two-for-one performance. The creative and talented show earned her a spot on the next phase of the competition.
Bates, a 63-year-old vocal coach, and writer who lives in Arizona stole the spotlight on Tuesday's episode of the show with her incredible vocals and creative showmanship.
ADALINE'S BACKGROUND
When asked why she decided to audition for the NBC reality-competition, Adaline explained that as a teenager, she used to be in a girl group with her sister and other friends, but after that group split up, she lost the confidence to stand on a stage by herself.
On top of that, she said, she had children, and "they had to come first."
"So, now I'm on the front burner, and it's about me," she added.
THE SURPRISE PERFORMANCE
As the judges gave Bates the green light to perform, she explained she had to go "get ready." After a long pause, she returned on stage ready to show two sides of herself. Literally.
Bates was wearing a black nightgown, makeup and flashy earrings on her left side; and a black tuxedo with a false beard drawn on her face on the right side.
She then started her one-woman-two-voices show singing "Unforgettable," as she took turns singing both the Nat King Cole and Natalie Cole parts.
THE JUDGES' REACTIONS
The audience and the judges were equally surprised and enchanted by Bates, who never lost her warm smile and radiant energy.
"I love being surprised," Simon Cowell said. While fellow newcomer judge Julianne Hough added, "This is so fun and entertaining. And what we're looking for in this day and age is to feel good. You're rad."
Gabrielle Union, the other new judge, pointed out:: "At 63 she came here on the stage and did not one but two performances. I love that this is what your 'me time' looks like."
Howie Mandel praised Bates' range and uniqueness, wrapping up the judges' opinions before all four of them gave her a "yes" to move on into the next phase of the competition.
After leaving the stage, Adaline met with the show's new emcee, Terry Crews, who said to her: "I can't wait to see who you're going to be next time."
A GOLDEN BUZZER WINNER
Another singer who recently made waves on the show with his amazing talent is 22-year-old Kodi Lee, a blind and autistic singer that left the judges and audience in awe with his singing and piano skills.
His performance of Leon Russell's "A Song for You" at the season 14 premiere of the show earned him a Golden Buzzer, and with it, the chance to go straight into the live shows, which will begin in August.
"You have a really beautiful tone. Thank you so much for trusting us on this show. I'm going to remember this moment for the rest of my life," Simon Cowell told Lee.
Please fill in your e-mail so we can share with you our top stories!