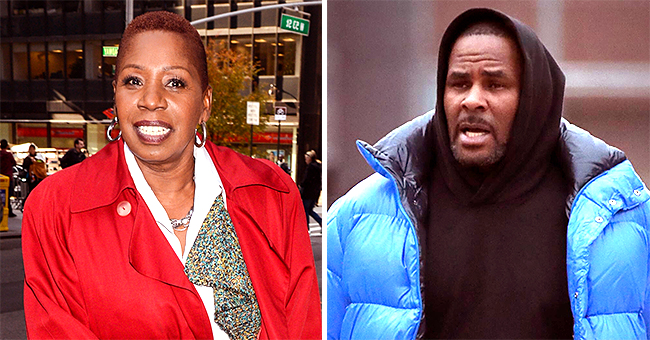 Getty images
Why Iyanla Vanzant Refused to Have R. Kelly on 'Fix My Life'
Iyanla Vanzant, while speaking in an interview, revealed the real reasons she decided not to have world-famous singer R. Kelly on her "Fix My Life" show.
The famous TV personality recently made an appearance on "The Breakfast Club," and it was there she gave detailed information about the upcoming season of her famous talk show, "Iyanla Fix My Life."
It was also during the interview that she spoke extensively about R. Kelly and how her male guest and the society, generally, question her because she's a Black woman doing this work.
She disclosed that the famous singer really wasn't ready to let things go and only made demands on how he wanted his appearance to go. Vanzant said:
"I'm very clear about mental imbalance when I see it. I'm very clear about distortion in energy when I see it. Not that I won't work with it, but you've got to own it."
"Fix My Life," since it first started airing years ago, has been a sort of respite for celebrities who seek to tell their difficult stories to facilitate their "healing" process.
Vanzant especially prides in this, and when she spoke to R. Kelly, she found that he just wasn't ready for the show. Vanzant disclosed:
"I'm very clear when somebody's coming to me to tell their story, not to get healing. I don't process stories. I do the healing, and I don't think he was ready."
The motivational speaker and author even went on to say that the controversial star is "still in denial." She said:
"He's still in denial. Just the mere fact that he was making demands of how he wanted this thing to happen. And I'm like, 'I ain't on that committee brother.'"
When the interviewer asked her to give more detailed information about R. Kelly's demands, Vanzant said that he wanted her to go meet him and in her words, "she ain't coming to you boo." Vanzant said:
"I'm not coming to you; you come to me. Iyanla Vanzant ain't coming to you boo. Not because I'm Iyanla Vanzant but because doctors don't make house calls anymore. And he needed emergency triage at this point."
Considering what a great story R. Kelly must have following his nasty scandal, it would make a perfect watch if the pair can find common ground so he can guest star on "Fix My Life."
Please fill in your e-mail so we can share with you our top stories!